This trip has it all! In just ten days you can spend time in Gombe National Park watching the exact same Chimpanzees that Jane Goodall has studied for over 50 years. We will see Africa as David Livingstone first experienced Africa, with a few days in the incredible and remote Selous – home to African Wild Dogs, Leopards, Lions and so much more. Lastly you can choose to end this adventure with a few days of relaxation on the private Chapwani Island, just a short distance offshore of Stone Town on the magical spice island of Zanzibar.
This trip is certain to exceed your expectations! After gathering in Dar es Salaam we immediately depart for the little-known, but incredible Selous, a short one-hour domestic flight from Dar es Salaam but a world apart. This park, the oldest and largest in all of Africa, is larger than the country of Belgium - indeed there are still areas in the Park where a westerner has never set foot! This is Africa as David Livingstone first found Africa, raw and wild. The Selous is home to the elusive African Wild Dog, the only park in eastern Africa where sightings are virtually guaranteed! Plus our remote wilderness camp has Elephants wandering through the grounds, Lions roaring at night and Leopard sightings are common!
After a few days in the Selous we move to Gombe National Park where Jane Goodall has studied the Chimp population for an unbroken period of 50 years, by far the longest continuous study of any Primate population on Earth. Consequently not only are all individuals named and history known, but the Chimpanzees are completely habituated and continue their daily lives all but indifferent to our presence.
The perfect ending to this trip is to opt for a few days of relaxation on the spice island of Zanzibar, and to make the stay here even more special we spend our time on the beautiful private Chapwani Island, with only ten rooms, this is indeed a tropical paradise on the Indian Ocean. Here you can relax, enjoy a massage on the beach, snorkel among tropical fish, or take the short boat ride to the main island of Zanzibar, where you can visit the Jozani Forest home to the Zanzibar Red Colobus monkey, explore Stone Town, even visit a spice farm if you wish.
Group size is limited to 12 individuals.
In keeping with the principles of responsible ecotourism:
We will make a donation to the conservation work of the Jane Goodall Institute.
We will employ local people.
We will use locally owned and operated lodges and outfitters.
We will use local goods and services.
This is an ecotour that will make a difference to you and to the places we visit.
Upcoming Dates
Monday, July 9, 2018 to Tuesday, July 17, 2018
Availability — OPEN to enrollment
---
Cost per person is $7795
Single supplement is $1000
---
Day 1: Arrive Dar Es Salaam, Tanzania
You are met on arrival at the Dar Es Salaam International Airport and transferred to our hotel for the night, the comfortable Southern Sun Hotel.
Overnight at Southern Sun (D)
Day 2: Dar es Salaam to Selous Game Reserve
Fly from Dar es Salaam early in the morning to arrive at Selous Game Reserve, where we are picked up from the airstrip and transfer to our Camp for the next two nights. We will enjoy a game drive on the way, and have lunch in camp and then a short siesta. Later this afternoon go on either a game drive or boat safari.
Overnight at Siwandu Camp (B,L,D)
Day 3: Selous Game Reserve
Early this morning we can choose whether we depart on a foot-walking Safari to the Selous Game Reserve, with the guidance of an armed ranger, the walk takes approximately 3 hours before you come back for a late breakfast, rest and lunch. Or perhaps take a game drive, or even an early morning boat ride. All options return to camp for lunch. Later this afternoon proceed with a game drive until sunset. Walking excursions offer a good chance of seeing giraffe, zebra, elephant and birds at a close range.
Overnight at Siwandu Camp (B,L,D)
Day 4: Selous Game Reserve to Dar es Salaam
We can have another early morning game drive, return to camp for lunch and in the afternoon we transfer to the airstrip for a flight to Dar es Salaam, where we again check-in to the comfortable Southern Sun and enjoy dinner by the pool.
Overnight at Southern Sun Hotel (B,L,D)
Day 5: Dar es Salaam to Gombe National Park
This morning we take a short domestic flight to Kigoma, where we should arrive around lunchtime. We then transfer to a lake boat for the two hour journey on Lake Tanganyika to the stunning Gombe Forest Lodge. This evening we settle in to our new lodgings at Gombe Forest Lodge, situated on the shores of Lake Tanganyika. The lodge has been designed with every comfort in mind, whilst minimizing the disturbance and impact of such a stunning environment. The camp's spacious tents, set on wooden platforms are shaded by huge mango trees along the lake shore, each tent featuring a writing desk, en-suite facilities with hot and cold running water.
Overnight Gombe Forest Lodge (B,L,D)
Day 6: Gombe National Park
This morning we take our first outing to track the Chimpanzees in Gombe Stream National Park. It is our first FULL day in Gombe and we plan to go chimp tracking in the morning and perhaps hike to Jane's Peak in the afternoon to enjoy the spectacular view. The Chimp tracking can last from one to three hours, so you should be prepared for hiking on steep and sometimes slippery terrain, and you should be able to walk under such conditions for several hours.
Overnight Gombe Forest Lodge (B,L,D)
Day 7: Gombe National Park
Today is our second FULL day in Gombe and we plan to go chimp tracking again. As yesterday the Chimp tracking can last from one to three hours, so you should be prepared for hiking on steep and sometimes slippery terrain, and you should be able to walk under such conditions for several hours. In the afternoon we can hike again, relax on the beach, and we may try and meet with some of the Jane Goodall staff for cocktails this evening. We should certainly plan to end the day with a swim in Lake Tanganyika!
Overnight Gombe Forest Lodge (B,L,D)
Day 8: Gombe Forest Lodge to Dar es Salaam and possible flights home
This morning we take the boat transfer back to Kigoma, enjoy a short tour of Ujiji where we can visit the memorial located in the exact spot where famed adventurer H.M. Stanley finally located Dr. Livingstone and uttered the famous phrase…"Dr. Livingstone I presume". After the tour we enjoy lunch and then fly back to Dar es Salaam. We have rooms reserved at the Southern Sun, where we have a farewell dinner for those headed home. You may choose to head home late this evening (after 9pm) or early tomorrow morning, everyone has a room at Southern Sun, so that those leaving have somewhere to clean up before their flights home.
Overnight at Southern Sun (B,L,D)
Travel Information
Thanks for choosing Tanzania with Terra Incognita Ecotours, Inc. It is our pleasure to help you plan for your upcoming ecotour. To ensure that your travel arrangements are made to your satisfaction, please take a few minutes to read through this information.
What you need to have with you on your trip:
Passport: If you are a U.S. or Canadian citizen, you will need a passport, valid for six months from the date of completion of your trip.
It is always a good idea to make a photocopy of your airline tickets and of the pages of your passport that have the number, your photograph and other pertinent information. Keep the copies separate from the originals.
Visas: Please consult the Tanzania consulate or embassy nearest you for visa requirements to enter Tanzania. If a visa is required, you are responsible for obtaining it, and please note for most nationalities a visa can be obtained on arrival.
Documents for children under the age of 18, not traveling with both parents: The U.S. government is increasingly requiring that minors under 18 years of age traveling alone, with grandparents, or with one parent/legal guardian only, carry a notarized document signed by both parents or by the parent/legal guardian not traveling with the child. We suggest you obtain such a document (noting the age of the child, relationship to traveling adult(s), dates of travel, and destination) to avoid potential problems. For example, in the case of divorce, the parent with legal custody must sign the permit, and the accompanying adult must carry proof of this fact. In addition, if the child's surname differs from that of either parent, you may want to carry the child's birth certificate.
Please note: You must be over 15 years of age to obtain a Chimpanzee viewing permit.
Emergency Contact number while on your ecotour:
Call COLLECT (813) 289-1049
Security: There are currently no security problems in Tanzania. Please feel free to check with the US State Department for any updates or change in conditions.
Practical Information
Currency: Rates effective August 2017. The currency of Tanzania is the Shilling (TZS) and 1 USD = 2,240 TZS.
Major credit cards are generally accepted at hotels, some restaurants and larger stores. U.S. dollars are of course widely accepted in Tanzania, so we suggest you carry U.S. currency in small denominations for smaller purchases such as refreshments or other miscellaneous expenses.
Health: All information we obtain regarding health precautions is received from the Centers for Disease Control in Atlanta at 404.332.4559 or www.cdc.gov.
Please note that Terra Incognita Ecotours, Inc., as a travel company, is in no way authorized to prescribe any inoculations or medications. We recommend that you consult your personal physician or a travel clinic specialist for medical advice, showing him or her the brochure that indicates the places you will be visiting. Your physician is most familiar with your personal medical history and is best qualified to determine your particular needs. It is always advisable to have physical and dental check-ups before you leave.
At the present time, several immunizations are recommended/required for this ecotour, (e..g., Yellow Fever) and the CDC recommends that the normal "childhood" vaccines should also be up to date: Measles, Mumps, Rubella (MMR Vaccine), Diphtheria, Tetanus, Perturssia (DTP Vaccine) and Polio vaccine.
Swimming and snorkeling: There are several opportunities to swim during the ecotour, in Lake Tanganyika in Gombe and snorkeling during the extension to Zanzibar.
Time Difference: Tanzania is seven hours ahead of Eastern Standard Time, but during Daylight Savings Time (March - November) the time difference can be reduced by one hour.
Weather: Tanzania is located close to the Equator, daytime temperatures can reach 80 to 90 degrees Fahrenheit, but, at some of the locations due to the higher altitudes (3,000 to 5,000 feet) you will be visiting, the mornings and evenings are cooler and nights can feel a little cooler. Please remember that the sun's rays are more vertical than you may be used to, so you can sunburn more easily, and the additional altitude makes the sun's rays even stronger. Be very careful of the midday sun.
Overall Tanzania has a generally comfortable, tropical climate year-round, although there are significant regional variations. Along the warmer and humid coast, the climate is determined in large part by the monsoon winds, which bring rains in two major periods. During the masika (long rains), from mid-March to May, it rains heavily almost every day, although seldom for the whole day, and the air can get unpleasantly sticky. The lighter mvuli (short rains) fall during November, December and sometimes into January.
Zanzibar: Chapwani Private Island optional extension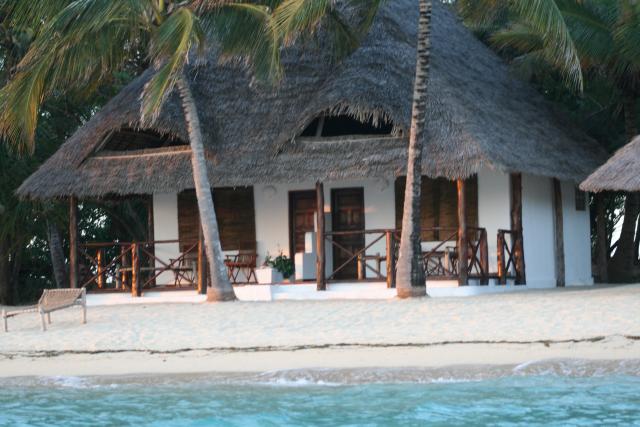 Upcoming Dates
Tuesday, July 17, 2018 to Friday, July 20, 2018
Availability — Open to enrollment
---
Cost per person is $2595
Single supplement is $500
---
Itinerary optional extension
Day 1: Dar es Salaam to Zanzibar
After a relaxed breakfast, we transfer to the airport for the short flight to Zanzibar, the famed Spice Island, where we plan to spend a couple of days relaxing, with opportunities to visit the Jozani Forest to see the endemic Red Colobus Monkeys, plus ample time to go snorkeling in the Indian Ocean. We fly over this morning and after a short drive through Stone Town transfer by boat over to Chapwani Private Island and our lodging for the next few days.
Chapwani Private Island (B,L,D)
Day 2: Zanzibar and the Jozani Forest
This morning we take a boat back to the main island of Zanzibar and drive to the Jozani Forest, where we go in search of the endemic, and highly endangered, Red Colobus Monkey. We plan to have lunch in Stone Town before a short guided tour of this historic site and plan to return to our beach-side lodge in time to catch sunset cocktails on the beach!
Chapwani Private Island (B,L,D)
Day 3: Chapwani Island
Today we have a full day to relax on Chapwani island. Perhaps go snorkeling in the morning and enjoy a massage on the beach in the afternoon. Wander the trail to the view the fruit bat colony located in the middle of the island.
Chapwani Private Island (B,L,D)
Day 4: Zanzibar to Dar es Salaam and flights home
Enjoy a relaxed breakfast this morning before transfer to the airport on Zanzibar in time to connect with your international flights from Dar Es Salaam.
(B)