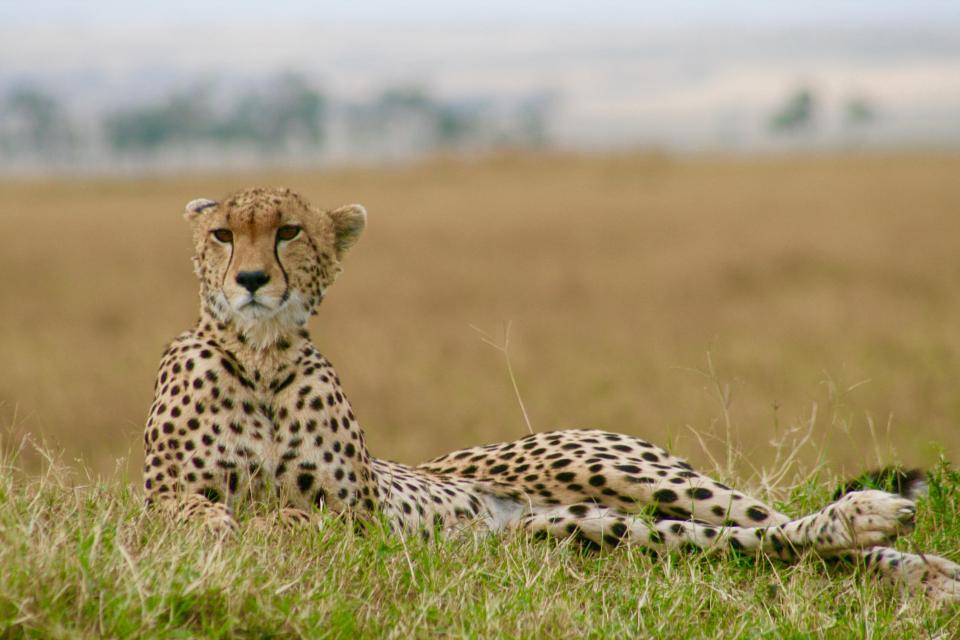 South Africa has so much to offer, from the "Big Five" game animals of Sabi Sands / Kruger National Park to one of the most beautiful coastal cities in the world – Cape Town - where two oceans collide at the southernmost tip creating a sea life bonanza: whales, sharks, sea lions, penguins and more. Visit the famed Cape of Good Hope, and the world-class vineyards of the spectacular Cape wine region. This trip will surely take your breath away as you experience stunning scenery, incredible wildlife in their natural environment, delicious cuisine and wine, and rest in some of the most luxurious lodgings in the world.
Oh yes, and for dessert, there is an optional post-trip extension to the magnificent Victoria Falls. A mile wide and 360 feet high, it is a powerful, thundering wall of water, with mist that engulfs you and rainbows that remind you how lucky you are.
In keeping with the principles of responsible ecotourism:
We will make a donation to the conservation work of the EcoHealth Alliance in South Africa.
We will employ local people.
We will use locally owned and operated lodges and outfitters.
We will use local goods and services.
This is an ecotour that will make a difference to you and to the places we visit.
Upcoming Dates
Saturday, April 14, 2018 to Friday, April 20, 2018
Availability — Open to enrollment
---
Cost per person is $5199
Single supplement is $900
---
Day 1: Arrival to Johannesburg, South Africa
Plan your arrival for any time today; there is a complimentary hotel shuttle to the Protea Hotel Oliver Tambo. Check-in and relax before meeting for dinner at 7:30pm in the hotel.  We will meet our local guide at the hotel this afternoon / evening who will accompany the group throughout the tour.
Welcome dinner and overnight at Protea Hotel Oliver Tambo
Day 2: Sabi Sands / Kruger National Park
We will leave the hotel at 8am to check-in for our flight to Skukuza Airport (10am departure).  Upon arrival we will be met and taken on a short game drive in open Safari vehicles to Lion Sands Tinga Lodge in the Sabi Sands Private Reserve. Sharing an unfenced border with the enormous Kruger National Park, we will drive through a variety of landscapes encountering wildlife galore. OOO-la-la!! Just a taste of what's to come.<br>
We will enjoy lunch at the lodge; every meal at the lodge is an event, the food is amazing!   This afternoon we take our first full game drive. Be prepared for an afternoon of fun, exploring the forests, rolling hills and open grasslands. And around every curve in the road and behind every bush is another surprise, a herd of elephants or a rhino, a pack of lions or a river of hippos, maybe a sighting of a leopard or a cheetah, you never know. At the end of the day we will enjoy sundowners followed by a candle-lit dinner riverside.
Lion Sands Tinga Lodge (B,L,D)
Day 3: Sabi Sands / Kruger National Park
Rise and shine early today for an early morning game drive or bush walk, our first early morning so we have the chance to spot the night hunters returning for the day. We will return for breakfast at the lodge and spend some time relaxing or watching wildlife action at the waterhole or the riverbed. After lunch we will do an afternoon game drive exploring the park, photographing wildlife and just enjoying nature. This will conclude with a scrumptious dinner back at the lodge.
Lion Sands Tinga Lodge (B,L,D)
Day 4: Sabi Sands to Cape Town
Enjoy a last game drive this morning before we depart the lodge after breakfast for our 11:20am scheduled flight to Cape Town. Upon arrival in Cape Town, we will be met by our local tour guide and enjoy a short city orientation tour, with a picnic lunch at the Round House. We have also planned a visit to Table Mountain this afternoon on the cable car, weather permitting.  From the summit is a breathtaking panorama of the ocean, mountains, and the oldest and most beautiful city in South Africa. Late in the day we check in to the Commodore Hotel located adjacent to the Victoria and Alfred Waterfront. The historic Victoria and Alfred Waterfront is the commercial center of Cape Town, on a thriving harbor buzzing with shops, restaurants, musicians and other activities.  You are encouraged to explore the waterfront this evening and enjoy dinner at a restaurant of your choosing.
Commodore Hotel (B,L)
Day 5: Cape Town and Cape Winelands
Today is an opportunity to explore the famed Cape Winelands, a beautiful landscape of rolling vineyards with a backdrop of the granite peaked Drakenstein Mountains. We have planned a full-day Winelands tour, visiting the small sophisticated town of Stellenbosch, which dates back to the mid 1600s, and two Wine Estates with wine tastings and a gourmet lunch.  On return late this afternoon you have an evening at leisure to explore on your own.
Commodore Hotel (B,L)
Day 6: Cape Town and Cape of Good Hope
Our ultimate destination today is the Cape of Good Hope, where we can watch the Atlantic and Indian oceans collide! Our day will include the dramatic Chapman's Peak Drive on the Atlantic Coast of the Cape Peninsula, one of the most spectacular drives in the world. It skirts along the rocky coastline unfolding breathtaking views in all directions. We will journey on a loop that includes Boulders Beach, where the black and white African penguins surf the waves and then waddle up the beach to sun themselves. We will travel south on the Cape Peninsula to the Cape of Good Hope Nature Reserve Oh, what a day!
This evening we venture out to dinner at a private venue, the Auslese Restaurant where we enjoy our Farewell Dinner. 
Commodore Hotel (B,L,D)
Day 7: Cape Town to home OR Victoria Falls, Zambia
Depending on flight schedules, leisure time in Cape Town then transfer to the Cape Town International Airport. 
(B)
Travel Information
Thanks for choosing South Africa with Terra Incognita Ecotours, Inc. It is our pleasure to help you plan for your upcoming ecotour. To ensure that your travel arrangements are made to your satisfaction, please take a few minutes to read through this IMPORTANT INFORMATION.
What you need to have with you on your trip:
Passport: If you are a U.S., U.K., Australian or Canadian citizen, you will need a passport, valid for six months from the date of completion of your trip.  Importantly, there must be at least TWO blank pages in your passport to affix the entry visa.
It is always a good idea to make a photocopy of your airline tickets and of the pages of your passport that have the number, your photograph and other pertinent information. Keep the copies separate from the originals.
Visas: Please consult the South Africa consulate or embassy nearest you for visa requirements to enter South Africa. If a visa is required, you are responsible for obtaining it.
Documents for children under the age of 18, not traveling with both parents: The U.S. government is increasingly requiring that minors under 18 years of age traveling alone, with grandparents, or with one parent/legal guardian only, carry a notarized document signed by both parents or by the parent/legal guardian not traveling with the child. We suggest you obtain such a document (noting the age of the child, relationship to traveling adult(s), dates of travel, and destination) to avoid potential problems. For example, in the case of divorce, the parent with legal custody must sign the permit, and the accompanying adult must carry proof of this fact. In addition, if the child's surname differs from that of either parent, you may want to carry the child's birth certificate.
Emergency Contact number while on your ecotour:
Call COLLECT (813) 476-2810
Practical Information
Currency: The currency of South Africa is the Rand. The exchange rate as of June 2017 was 1 US$ = 12.90 Randa. Major credit cards are generally accepted at hotels, restaurants and larger stores. U.S. dollars are not accepted in South Africa, so we suggest you change some U.S. currency into smaller Rand notes for smaller purchases such as taxis, refreshments or other miscellaneous expenses.
Health: All information we obtain regarding health precautions is received from the Centers for Disease Control in Atlanta at 404.332.4559 or www.cdc.gov.
Please note that Terra Incognita Ecotours, Inc., as a travel company, is in no way authorized to prescribe any inoculations or medications. We recommend that you consult your personal physician for medical advice, showing him or her the brochure that indicates the places you will be visiting. Your physician is most familiar with your personal medical history and is best qualified to determine your particular needs. It is always advisable to have physical and dental check-ups before you leave.
At the present time, no specific immunizations are required for this ecotour, although the CDC recommends the following:
Hepatitis A or Immune Globulin (IG). Transmission of the Hepatitis A virus can occur through direct person-to-person contact, through exposure to contaminated water, ice, or shellfish harvested in contaminated water, or from fruits, vegetables, or other foods that are eaten uncooked and that were contaminated during harvesting or subsequent handling.
Typhoid vaccine. Typhoid Fever can be contracted through contaminated drinking water or food, or by eating food or drinking beverages that have been handled by a person who is infected. Large outbreaks are most often related to fecal contamination of water supplies or foods sold by street vendors.
As needed, booster doses for tetanus-diphtheria, measles, and a one-time dose of polio vaccine for adults.
Please also note:
A certificate of Yellow Fever vaccination may be required for entry into South Africa. For detailed information, see "Yellow Fever Vaccine Requirements and Information on Malaria Risk and Prophylaxis, by Country". Also, find the nearest authorized U.S. Yellow Fever vaccine center. The normal "childhood" vaccines should be up to date: Measles, Mumps, Rubella (MMR Vaccine), Diphtheria, Tetanus, Perturssia (DTP Vaccine) and Polio.
Swimming: There are several opportunities to swim during the ecotour.  We advocate the buddy system for everyone, at all times, and children less than 14 years of age should always be accompanied by an adult while swimming.
Time Difference: South Africa is six hours ahead of Eastern Standard Time. 
Weather: South Africa climate conditions generally range from Mediterranean in the southwestern corner (the Cape) to temperate in the interior plateau, and to sub-tropical in the northeast (where Kruger is located).  A small area in the north-west has more of a desert climate.  Most of the country has warm, sunny days and cool nights.  
Please remember the seasons are reversed in the southern hemisphere - summer is December to February.  
Please remember that the sun's rays are more vertical than you may be used to, so you can sunburn more easily. Be careful of the midday sun.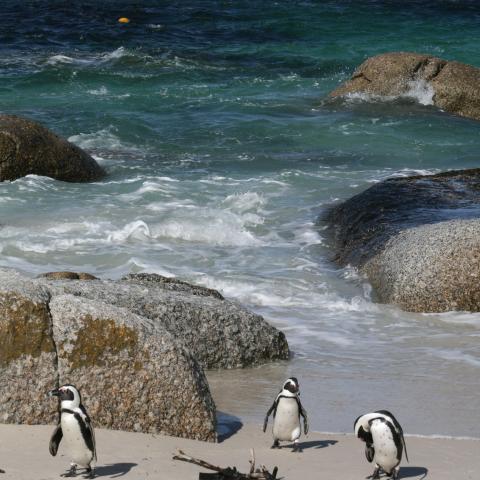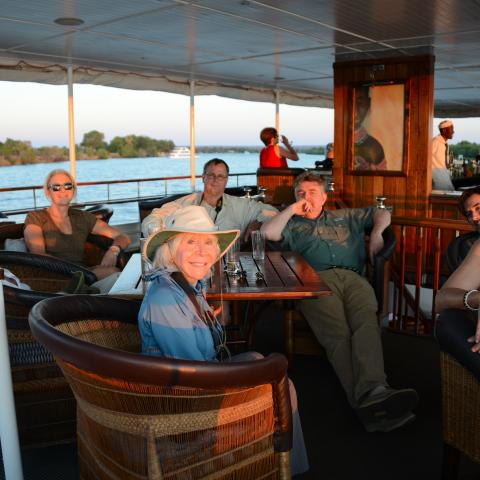 Lodging Info
Protea Hotel OR Tambo, Johannesburg
The Protea Hotel O.R. Tambo Airport offers the perfect blend of comfort and convenience for your Johannesburg arrival.  Prepare to be impressed with the aviation-themed décor, food, drinks, & in-room amenities. All bedroom windows, have both blackout curtains and are double glazed to drastically reduce outdoor noise for your convenience. Savor fresh all-day dining in a quirky aviation-themed atmosphere at The Warehouse, the hotel restaurant, or enjoy a dip in the outdoor pool. Our prime location near O.R. Tambo International Airport (& free shuttle service) removes the stress of travel.
Lion Sands Tinga Lodge
Lion Sands Tinga Lodge is an escaope everyone should enjoy at least once in their lifetime!  With just nine luxurious suites, each located in an utterly private spot overlooking the Sabi River you need not move far to appreciate extraordinary wildlife, or to marvel at the spectacular riverside view. Each of Tinga's suites has a bathroom with a bath and shower, separate lounge with mini-bar, private plunge pool, 24-hour air conditioning and so much more!
Commodore Hotel, Cape Town
The Commodore is a 4-star hotel offering contemporary accommodation, superb service and an excellent location in the Victoria and Alfred waterfront, overlooking Table Mountain, Robben Island, the harbor and the Atlantic Ocean.  Highlights include a spa, swimming pool and restaurant all within easy walking distance of the many waterfront attractions.  Free WiFi, air-conditioning, tea and coffee making facilities, satellite/cable TV, a mini-bar and so much more!
Victoria Falls optional extension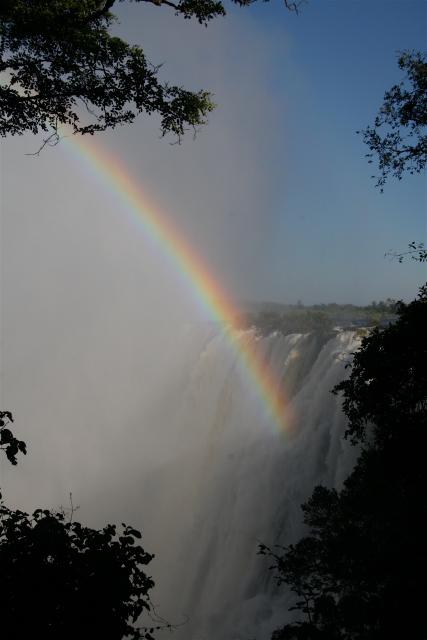 Upcoming Dates
Friday, April 20, 2018 to Sunday, April 22, 2018
Availability — Open to enrollment
---
Cost per person is $2,500
Single supplement is $600
---
Itinerary optional extension
Day 1: Cape Town to Victoria Falls, Zambia
This morning we transfer to the Cape Town International airport for our flight to Livingstone, Zambia.  After clearing customs and immigration we transfer to the Royal Livingston Hotel, located adjacent to the falls. Its colonial style architecture evokes a feeling of the past when Dr. Livingstone was alive. Nicknamed the "smoke that thunders", the magnificent Victoria Falls is monumental in every way, the roar is thunderous and the mist can be seen from 40 miles away. The falls spans the Zambezi River, a mile wide, and is 360 feet high, creating endless rainbows.  After lunch at the hotel you can spend the afternoon exploring the Victoria Falls, a short walk from the hotel.  Dinner this evening is at our luxurious hotel.
Royal Livingstone Hotel (B,L,D)
Day 2: Victoria Falls
Today we have a whole day to explore Victoria Falls and the surrounding area, with many activities to choose from - bungee jumping, helicopter rides, white water rafting and much more.  The hotel grounds also have a beautiful pool area and expansive lawn with zebras grazing and Vervet monkeys busily doing what Vervet monkeys do. After a full day of awe, we will conclude our day with a sunset cruise on the mighty Zambezi River, watching hippos in the water, elephants coming to the river to drink, and birds galore. Dinner will be at our beautiful hotel after the cruise.
Royal Livingstone Hotel (B,L,D)
Day 3: Victoria Falls to home
Sadly our final morning in Africa, before we all head for home. Transfers to the Livingstone Airport are provided according to your departure flight. 
(B)
Lodging Info optional extension
Royal Livingstone Hotel, Zambia
On the banks of the Zambezi River, the Royal Livingstone Hotel is named after the legendary explorer who named Zambia's iconic waterfall in honor of his queen. Paying tribute to this glorious era, the hotel evokes Victorian elegance and colonial traditions in impeccable style, and offers unforgettable adventures.  All of the luxury rooms and suites feature a private veranda with mighty Zambezi River views. The sights and sounds of river life can be soaked up as you laze in a hammock, enjoy a massage in a waterfront gazebo, or cool off in the pool. Sip refreshments in a lounge that displays the paintings of Sir David Livingstone. Partake in charming high tea rituals, and later sundowners on a deck overlooking Victoria Falls. Savor African and European fine dining, followed by nightcaps under the stars.