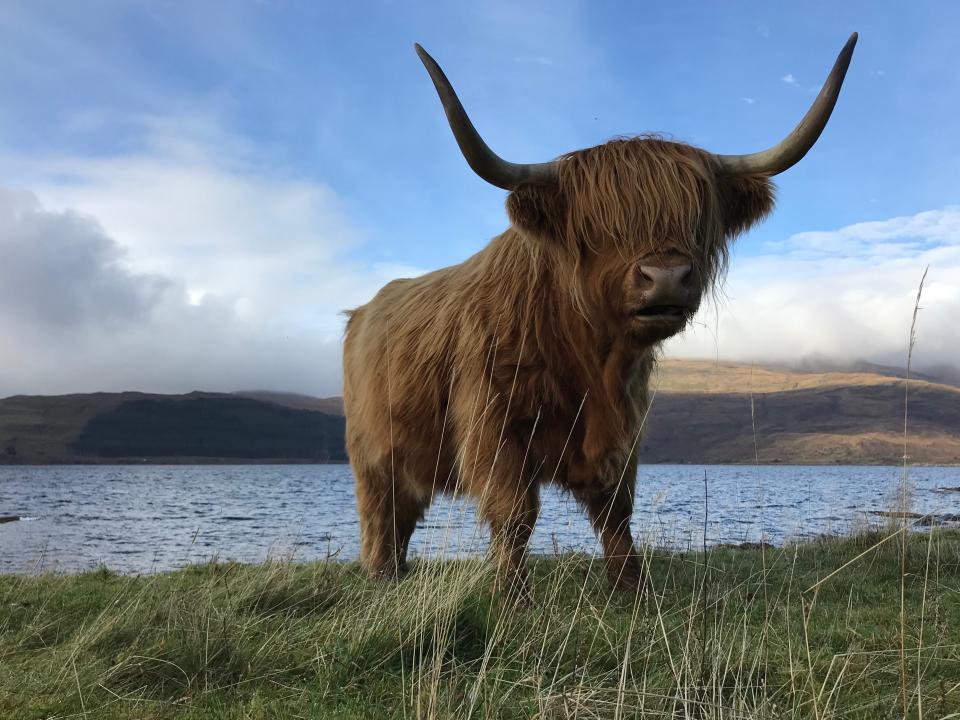 The lure of Scotland is captivating.  Steeped in a long and complicated history, with castles, mysterious standing stones, remnants of bygone civilizations and battlefield sites, alongside some of the most rugged and remote landscapes in the world - this is truly a gem. We will explore the lush forests, rolling moorlands and glens of the Scottish Highlands before making our way to the rugged islands of both the Inner and Outer Hebrides where life is more on the edge. With the long days and warmer waters of summer there is an explosion of wildlife – whales, seals, dolphins, otters, eagles, deer, and a plethora of seabirds including puffins, razorbills, guillemots, gannets, and much more. The cultural and natural history of this fascinating place is sure to satisfy.
The Highlands – Our journey begins in the Scottish Highlands as we arrive to Inverness (from the Scottish Gaelic for "Mouth of the River Ness"), considered the capital of the Highlands. We will explore the surrounding environs, including Strathconon Glen, Loch Ness, and the Ardnamurchan Peninsula. The Highlands have a rich history dating back centuries, which is evident everywhere we travel.  We explore a landscape of castles and lochs, private hunting estates, moorland and coniferous forests.  Around every corner a quaint village or fishing community, many with their own whisky distillery.
Inner Hebrides – Isle of Mull, Iona, Staffa, Treshnish Isles and Isle of Skye.  The Isle of Mull is our base for three nights and Mull seems to capture all of Scotland's ecosystems in one small area - moorland, forests, rugged coastline, and it is home to otters, Red deer, White-tailed sea eagles, Golden eagles and herds of Highland cows!  Iona is the ancestral home of Christianity in Scotland and the 11th century abbey is a must see sight!  Staffa is a World Heritage Site and home of Fingal's Cave, which was the inspiration for Mendelsson's "Hebridean Overture". We see the famous basalt columns and a vibrant population of nesting Puffins that allow you oh so close!  The Treshnish Isles are home to many nesting seabirds - Cormorants, Shags, Guillemots, Kittiwakes, and of course more Puffins!
Outer Hebrides – Isle of Lewis and Isle of Harris.  From pre-historic standing stone sites, to brochs, to the influence of the Vikings as seen in Norse place names, a rugged history speaks to you here in the Outer Hebrides.  People here are surviving on the edge of civilization, indeed language and road signs are still Gaelic first, English second, and this rugged existence continues in a dramatic landscape, and today Harris Tweed is helping keep the old traditions alive, as well as a profusion of whisky distilleries!
This is an Ecotour that will make a difference to you, and to the areas we visit.
We will donate to the important work of Scottish Wildcat Conservation at the Aigas Trust.
We will employ local people.
We will use locally owned and operated lodges and outfitters.
We will use local goods and services.
Upcoming Dates
Saturday, June 2, 2018 to Monday, June 11, 2018
Availability — Only TWO spaces left
---
Cost per person is $6,979
Single supplement is $1,250
---
Day 1: Saturday. Arrival to Inverness, Scotland
Please plan your arrival to Inverness airport for 2pm, or Inverness Train Station for 1pm; you will be met on arrival at either location.  We will visit Culloden, the battlefield where Bonnie Prince Charlie's forces were defeated at one of the most decisive battles in all of Scotland - the final confrontation of the Jacobite rising of 1745 and part of a religious civil war in Britain. From here we transfer to our luxury country house hotel. After settling in we will do a short scenic walk from the hotel through the forest to Rogie Falls, an impressive series of falls with a suspension bridge overlooking them.
The Welcome Dinner is in the restaurant at the lovely family owned hotel this evening.
Coul House Hotel (D)
Day 2: Sunday. Explore the Highlands and tour a local whisky distillery
Full day to explore Strathconon Glen, one of the most remote glens in the Highlands and a hidden treasure. Along the way we will see Red deer, eagles, and other wildlife, and of course the beautiful Hebridean sheep – so cute! We will have a picnic lunch in the Glen before returning for a late afternoon tour of Glen Ord / Singleton Distillery. King Alexander III of Scotland granted the land on which the distillery sits to the MacKenzie family in 1263. Thomas MacKenzie inherited the land, and founded Glen Ord distillery in 1838. The history of the distillery is interesting and the whisky is really good, and you will get to hear and taste both while we are there.
Coul House Hotel (B, L, D)
Day 3: Monday. Aigas, Loch Ness, Ardnamurchin Peninsula and Isle of Mull
This is a day of travel and exploration as we make our way from the Highlands to the Islands, with our final destination Tobermory on the Isle of Mull, Inner Hebrides. Our first stop is the Aigas Field Center where we will meet Sir John Lister-Kaye and his lovely wife Lucy who will host us for tea in their home, and base for the Aigas Field Center. John Lister-Kaye is one of Britain's most loved conservationist and nature writers. Having just celebrated forty years at Aigas, Sir John will share with us Aigas' history and conservation programs, with a special focus on the Scottish Wildcat Captive Breeding Project, to which we donate as our Conservation Partner. We will also have a chance to observe the Scottish Wildcats from a hide before departing Aigas.
As we continue our journey, we will drive two lane country roads through stunning landscapes, along Loch Ness (the largest body of fresh water in Britain) and the Ardnamurchan Peninsula until we reach the ferry to the Isle of Mull and Tobermory with its colorful waterfront and bustling harbor.
Highland Cottage (B, L, D)
Day 4: Tuesday. Isle of Mull and Iona, Inner Hebrides
We depart early today (7:30am) for a scenic drive from Tobermory to Fionnphort, stopping along the way for wildlife viewing and sightseeing, before catching the ferry to the picturesque island of Iona. Iona is the "Cradle of Christianity" for Scotland, an iconic and sacred place. St. Columba and his monks arrived to Iona in 563 where they built the abbey and began converting people to Christianity. We will visit the ruins of the medieval abbey and the rebuilt abbey church, as well as St. Oran's Chapel and the graveyard surrounding it - the burial place of fifteen Scottish kings, including Macbeth. We will lunch at the Argyll Hotel before departing Iona by ferry and continuing the scenic route back to Tobermory. Dinner is on your own this evening to savor some of the local restaurants, pubs and fish and chip shops!
Highland Cottage (B, L)
Day 5: Wednesday. Whale / dolphin watch plus Staffa and the Treshnish Isles
This morning will be a relaxed morning to explore the shops and harbor in Tobermory. We will depart at 12 noon for a glorious eight hour private boat cruise with Sea Wild Scotland - whale and dolphin watching with visits to Staffa and the Treshnish Isles. We will visit Fingal's Cave and the famous basalt columns, and will see nesting seabirds galore – Puffins, Cormorants, Shags, Guillemots, Kittiwakes, and did we mention Puffins?  Dinner is on board our boat as we sail back to Tobermory in the lovely late afternoon light!
Highland Cottage (B, L, D)
Day 6: Thursday. Isle of Mull / Isle of Skye and sail to Isle of Harris, Outer Hebrides
Today our journey will take us from the Inner Hebrides to the Outer Hebrides as we make our way from the Isle of Mull through the Isle of Skye and on to the Isle of Harris, where we will spend the next four nights at our private estate in the Outer Hebrides. We will catch the early morning ferry from Tobermory to Kilchoan, then cross the Ardnamurchan Peninsula to Mallaig where we will catch the ferry to the Isle of Skye. We will spend the day exploring Skye, with a stop in Portree for shopping and lunch then we continue our journey north for the late afternoon ferry to Tarbert on the Isle of Harris.  We take the ferry across "the Minch" and drive to our Private Estate on the Island of Lewis where we settle in late this evening with a lovely dinner.
Eishken Private Estate (B,D)
Day 7: Friday. Shiant Isles / Isle of Harris
After breakfast we will take a private boat trip out to the Shiant Isles (Gaelic for enchanted isles), privately owned by the Nicolson family since 1937, and home to large populations of seabirds, tens of thousands of breeding puffins, and large numbers of razorbills, common guillemots, great skuas, northern fulmars, black-legged kittiwakes, and shags. We will spend the second half of the day exploring Harris by land. The rugged landscape of this area is sculpted by nature – a place where the mountains and the sea are intertwined – and the beauty of it all takes your breath away. We will visit Tarbert, the hub of Harris, which lies between the two islands of North and South Harris - a lovely little port town that is situated in a valley with mountains as its backdrop. Harris Tweed will definitely be on our stop to shop to do list.
Eishken Private Estate (B, L, D)
Day 8: Saturday. Isle of Lewis / Stornaway / Lews Castle / Butt of Lewis / Blackhouses
As we continue our journey through the Outer Hebrides, today we will explore the northern section of the Isle of Lewis. We will visit the town of Stornaway, which was founded in the early 9th century by Vikings, due to its central location and sheltered natural harbor. Today it is an important port and the major town and administrative center of the Outer Hebrides. The nearby Lews Castle and Museum has an interesting history and elaborate gardens, and is now home to six of the original Lewis Chessmen, which were discovered in 1831. We will explore our way to the northernmost point on the island, Butt of Lewis Lighthouse, stopping to walk and view some extraordinary landscapes and wildlife along the way. On our way back we will visit the historic Blackhouses at both Arnol and Gearrannan – a step back in time to a way of life in a typical crofting township of the last century. 
Eishken Private Estate (B, L, D)
Day 9: Sunday. Stones of Callanish, west coast of Isle of Lewis
This will be our last full day in the Outer Hebrides so we will get an early start, beginning our day with a visit to the famous Standing Stones of Callanish in the morning light. Thought to date back to around 3000BC, no one truly knows why the stones were built, but many historians believe the stones are an ancient type of astronomical observatory. From here we will travel further west to Uig, a remote area of Lewis on the island's rugged Atlantic coast. A much more dramatic landscape than anywhere else on Lewis, much hillier, major cliffs, and some of the most pristine beaches you will ever see. We will spend a relaxing day, and picnic lunch, here enjoying this incredible environment, before heading back to the estate for our Farewell Dinner. 
Eishken Private Estate (B, L, D)
Day 10: Monday. Isle of Lewis to Inverness and flights home
We depart today on the early morning ferry back to the mainland, to the port of Ullapool, for our drive back to Inverness. 
Please plan any onward flights for after 1:30pm as the earliest we will be in Inverness is 12 noon.
(B)
Travel Information
Thanks for choosing Scotland: Highlands and Islands with Terra Incognita Ecotours, Inc. It is our pleasure to help you plan for your upcoming ecotour. To ensure that your travel arrangements are made to your satisfaction, please take a few minutes to read through this information.
What you need to have with you on your trip:
Passport: If you are a U.S., U.K., Australian or Canadian citizen, you will need a passport, valid for six months from the date of completion of your trip.
It is always a good idea to make a photocopy of your airline tickets and of the pages of your passport that have the number, your photograph and other pertinent information. Keep the copies separate from the originals.
Visas: If you are not a U.S. passport holder please consult the United Kingdom consulate or embassy nearest you for visa requirements to enter the United Kingdom. If a visa is required, you are responsible for obtaining it.
Documents for children under the age of 18, not traveling with both parents: The U.S. government is increasingly requiring that minors under 18 years of age traveling alone, with grandparents, or with one parent/legal guardian only, carry a notarized document signed by both parents or by the parent/legal guardian not traveling with the child. We suggest you obtain such a document (noting the age of the child, relationship to traveling adult(s), dates of travel, and destination) to avoid potential problems. For example, in the case of divorce, the parent with legal custody must sign the permit, and the accompanying adult must carry proof of this fact. In addition, if the child's surname differs from that of either parent, you may want to carry the child's birth certificate.
Emergency Contact number while on your ecotour:
Call COLLECT (813) 476-2810
Security: There are currently no security problems in Scotland. Please feel free to check with the US State Department for any updates or change in conditions.
Practical Information
Currency: Rates effective January 2016. The currency of Scotalnd is the Great Britain Pound (GBP) and 1 USD = 0.67 GBP. Importantly there are lots of ATM machines in the Scotland.
Major credit cards are widely accepted throughout Scotland, we suggest you change some currency into small denomination Great Britain pounds for smaller purchases such as refreshments or other miscellaneous expenses.
Health: All information we obtain regarding health precautions is received from the Centers for Disease Control in Atlanta at 404.332.4559 or www.cdc.gov.
Please note that Terra Incognita Ecotours, Inc., as a travel company, is in no way authorized to prescribe any inoculations or medications. We recommend that you consult your personal physician or a travel clinic specialist for medical advice, showing him or her the brochure that indicates the places you will be visiting. Your physician is most familiar with your personal medical history and is best qualified to determine your particular needs. It is always advisable to have physical and dental check-ups before you leave.
There are no specific health advisories in effect for Scotland.
Swimming: There are not really any opportunities to swim during the ecotour.
Time Difference: Scotland is five or six hours ahead of Eastern Standard Time, according to daylight savings.
Weather: Scotland has a largely cool/chilly temperate climate. Because Scotland lies in the Northern Hemisphere, the warmest months are June, July and August (summer), and the coldest November, December and January. Importantly, rain and wind is possible at any time, even though we travel in Scotland's summer season the mornings and evenings are cooler.