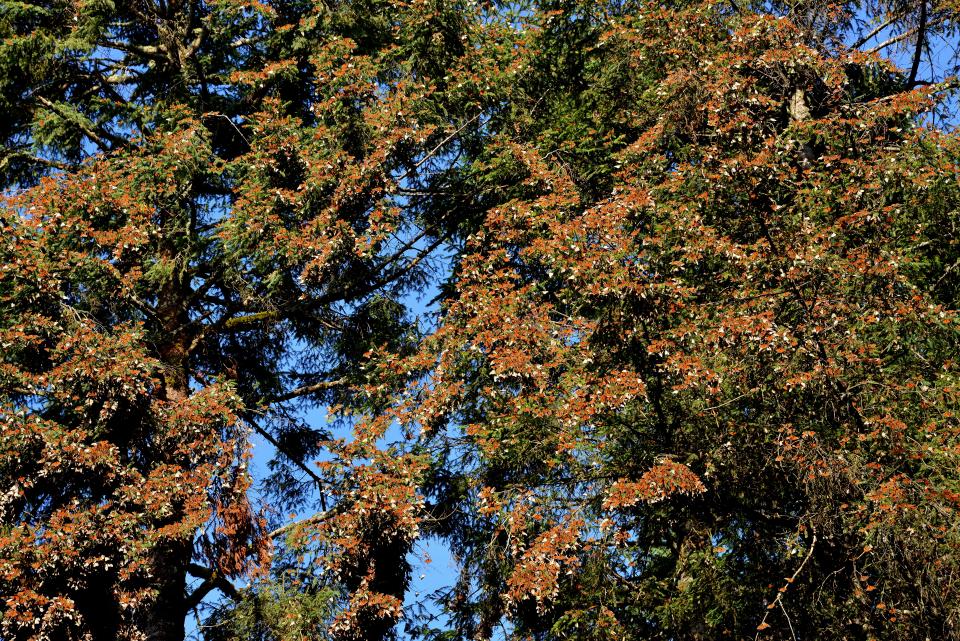 Join us as we journey to Mexico to witness one of the most spectacular natural phenomena in the world, the annual Monarch butterfly migration. Monarch butterflies migrate from southern Canada and the United States each year starting in October to wintering sites in the highlands of central Mexico, where millions of Monarch butterflies congregate in the Oyamel fir forests found on isolated mountaintops. No individual butterfly completes the round trip; female Monarchs lay eggs during the northward migration starting in March and five generations later butterflies head south again in October. It continues to be a mystery how after five generations the offspring know EXACTLY where to return, and yet they always do. Combine this with the charming colonial city of Morelia, a UNESCO World Heritage site, and end with a couple of days in a luxurious Hacienda and this is a trip you will remember for a long time!
This is an ecotour that will make a difference to you and to the places we visit.
We will donate to the important work of Monarch Butterfly Conservation
Group size is limited to 16 guests
Upcoming Dates
Saturday, November 24, 2018 to Saturday, December 1, 2018
Availability — Open to enrollment
---
Cost per person is $4,895
Single supplement is $899
---
Day 1: Arrival to Morelia
You are picked-up on arrival at the Morelia airport and transferred to the Hotel de la Soledad in the heart of colonial Morelia. (We recommend American Airlines #3503 from Dallas - Fort Worth as it arrives early afternoon allowing you time to relax before our first scheduled activity). Late this afternoon enjoy a guided tour of historic Morelia, and then our Welcome Dinner this evening will be at our luxurious hotel.
Hotel de la Soledad (D)
Day 2: Morelia to Sierra Chincua Monarch Butterfly Reserve
After a relaxed breakfast this morning we head for the highlands, home to the Monarch butterfly sanctuaries. These Monarch butterfly sanctuaries are found in Mexico's Oyamel fir forests, a unique mountaintop habitat, of which only 2% of the original forests still remain, and are comprised of only 12 isolated patches, each found at around 10,000 feet above sea-level. We plan to enjoy a picnic lunch in the Sierra Chincua Reserve, one of the winter homes for the Monarch butterflies. Spend the afternoon among millions of butterflies that flutter about in the Oyamel fir trees. We will return to the small village of Angangueo this evening and our base at the simple but comfortable Plaza Don Gabino Hotel.
Plaza Don Gabino Hotel (B,L,D)
Day 3: El Rosario Reserve
Another relaxed breakfast, no need to rush, the butterflies get more active as the sun warms the forest. We will enjoy a scenic 30-minute drive to El Rosario Reserve, a different forest sanctuary, and home to perhaps a larger colony of butterflies. We plan to spend the whole day here enjoying the forest and the butterflies. We return to Angangueo late afternoon, and will have time to stroll through this charming and authentic town before another delicious dinner at our hotel.
Plaza Don Gabino Hotel (B,L,D)
Day 4: Angangueno to Morelia
This morning we return to Morelia, and will have a little more time to explore this charming colonial city. We suggest you enjoy lunch on your own, so that you can choose where to wander, which restaurant to visit, and where to shop. Don't miss the many candy stores for which Morelia is famous! We will enjoy dinner this evening at a fabulous local restaurant - Los Mirasoles - and can try some of the local delicacies.
Hotel de la Soledad (B,D)
Day 5: Morelia to Hacienda de San Antonio
This morning is our first "early" start, as we must leave by 8am, not such a traumatic start to the day! We are headed to a very special place, the uber-luxurious Hacienda de San Antonio, a romantic hacienda near the base of the Colima Volcano, also known as the "Volcano of Fire". This 12,533 foot volcano is the most active volcano in all of Mexico, and if we are lucky we can watch it erupt as we drink cocktails on the patio this evening! But before we arrive to the hacienda we have a special treat, we will stop for lunch in the beautiful "alpine" mountain retreat of Mazamitla, an authentic Mexican town, where we can spend a short time strolling the stores and alleyways. On arrival to the Hacienda de San Antonio we settle into our rooms, and later this afternoon we visit the cheese factory where they produce their own organic cheeses and yogurt. Then enjoy drinks in the bar before a delicious dinner of organic and bio-dynamic ingredients!
Hacienda de San Antonio
Day 6: Hacienda de San Antonio
We have a whole day to explore the hacienda, starting with a visit to the coffee factory (again organic and bio-dynamic) and then enjoy a horseback ride through the 20,000 acre property, past lakes and woodland, with views of the erupting Colima Volcano. Enjoy a picnic lunch, and then the afternoon is free to enjoy the pool, go on a bird-walk, relax or take a massage!
Hacienda de San Antonio
Day 7: Hacienda de San Antonio to Guadalajara and flights home
Today you should plan your flight home for after 1pm. Both American Airlines and United Airlines have direct flights to USA - American Airlines flies to Dallas Fort Worth and United Airlines to Houston. But there are also direct flights on Volaris Airlines to Los Angeles and Chicago.
(B)
Travel Information
Thanks for choosing Mexico with Terra Incognita Ecotours, Inc. It is our pleasure to help you plan for your upcoming ecotour. To ensure that your travel arrangements are made to your satisfaction, please take a few minutes to read through this information.
What you need to have with you on your trip:
Passport: If you are a U.S. or Canadian or U.K. citizen, you will need a passport, valid for six months from the date of completion of your trip but you will NOT need to obtain a visa prior to arrival.
It is always a good idea to make a photocopy of your airline tickets and of the pages of your passport that have the number, your photograph and other pertinent information. Keep the copies separate from the originals.
Visas: If you are NOT a U.S. or Canadian Or U.K citizen, please consult the Mexican consulate or embassy nearest you for visa requirements to enter Mexico. If a visa is required, you are responsible for obtaining it.
Documents for children under the age of 18, not traveling with both parents: The U.S. government is increasingly requiring that minors under 18 years of age traveling alone, with grandparents, or with one parent/legal guardian only, carry a notarized document signed by both parents or by the parent/legal guardian not traveling with the child. We suggest you obtain such a document (noting the age of the child, relationship to traveling adult(s), dates of travel, and destination) to avoid potential problems. For example, in the case of divorce, the parent with legal custody must sign the permit, and the accompanying adult must carry proof of this fact. In addition, if the child's surname differs from that of either parent, you may want to carry the child's birth certificate.
Emergency Contact number while on your ecotour:
Call COLLECT (813) 476-2810
Practical Information
Currency: The currency of Mexico is the Peso. The exchange rate is at 1 USD = 19.95 Pesos. Major credit cards are generally accepted at hotels, restaurants and larger stores. U.S. dollars are widely accepted in Mexico, so we suggest you change some currency on arrival and carry Mexican Pesos in small denominations for smaller purchases such as refreshments or other miscellaneous expenses.
Health: All information we obtain regarding health precautions is received from the Centers for Disease Control in Atlanta at 404.332.4559 or www.cdc.gov.
Please note that Terra Incognita Ecotours, Inc., as a travel company, is in no way authorized to prescribe any inoculations or medications. We recommend that you consult your personal physician for medical advice, showing him or her the brochure that indicates the places you will be visiting. Your physician is most familiar with your personal medical history and is best qualified to determine your particular needs. It is always advisable to have physical and dental check-ups before you leave.
At the present time, no immunizations are required for this ecotour, although the CDC recommends that the normal "childhood" vaccines should be up to date: Measles, Mumps, Rubella (MMR Vaccine), Diphtheria, Tetanus, Perturssia (DTP Vaccine) and Polio vaccine.
Swimming: There are only one or two opportunities to swim during the ecotour and children less than 14 years of age must be accompanied by an adult while swimming.
Time Difference: Mexico is one hour behind Eastern Standard Time.
Weather: Although some of Mexico is located in the Tropics, most of this trip is at higher altitudes, so you can expect warm, pleasant daytime temperatures and cold nights, you can expect daytime highs of 75 degrees Fahrenheit, with nighttime temperatures in the 40's or low 50'S. Please remember that the sun's rays are more vertical than you may be used to, so you can sunburn more easily. Be careful of the midday sun. Rain is unlikely as we are in the area in their dry season.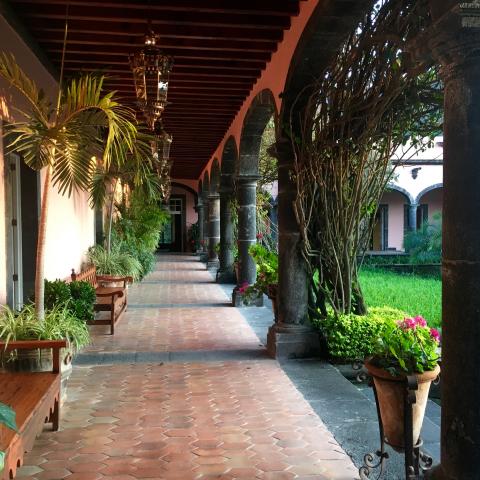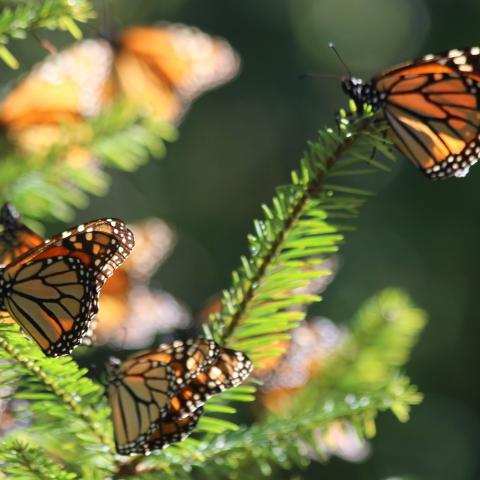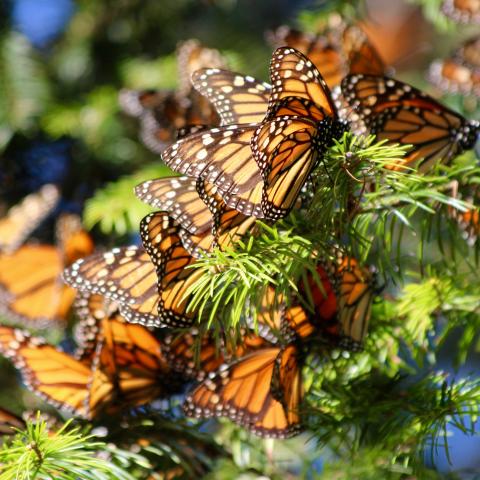 Lodging Info
Hacienda de San Antonio, near Colima
Situated at the foot of the active Colima Volcano is this very elegant five-star luxury resort in a beautifully restored hacienda, set in a 5000-acre nature preserve. Lush formal gardens open up to vast expanses of unspoiled natural beauty. The eternal Spring like weather is perfect for enjoying a wide range of outdoor activities, while the hacienda becomes the stage for fine dining, socializing and relaxing pool-side!
Hotel de la Soledad, Morelia
Hotel De La Soledad is in the historic center of Morelia, a UNESCO World Heritage Site. Located just 350 feet from the Morelia Cathedral and Plaza de Armas Square, this elegant hotel is in a lovingly restored 17th century house with original artwork and antiques. The central courtyard, surrounded by tropical plants is a relaxing haven away from the bustling town center. Each colonial-style room has WiFi, LCD TV, and free bottled water.
Plaza Don Gabino Hotel, Angangueo
Conveniently located between the Sierra Chincua and El Rosario sanctuaries is the colorful and comfortable Don Gabino Hotel and Restaurant. With just nine rooms we have booked the whole property and can enjoy the exclusivity of being the only guests. All the rooms have WiFi, free bottled water, and an ample supply of blankets as the rooms can get quite cold at night.