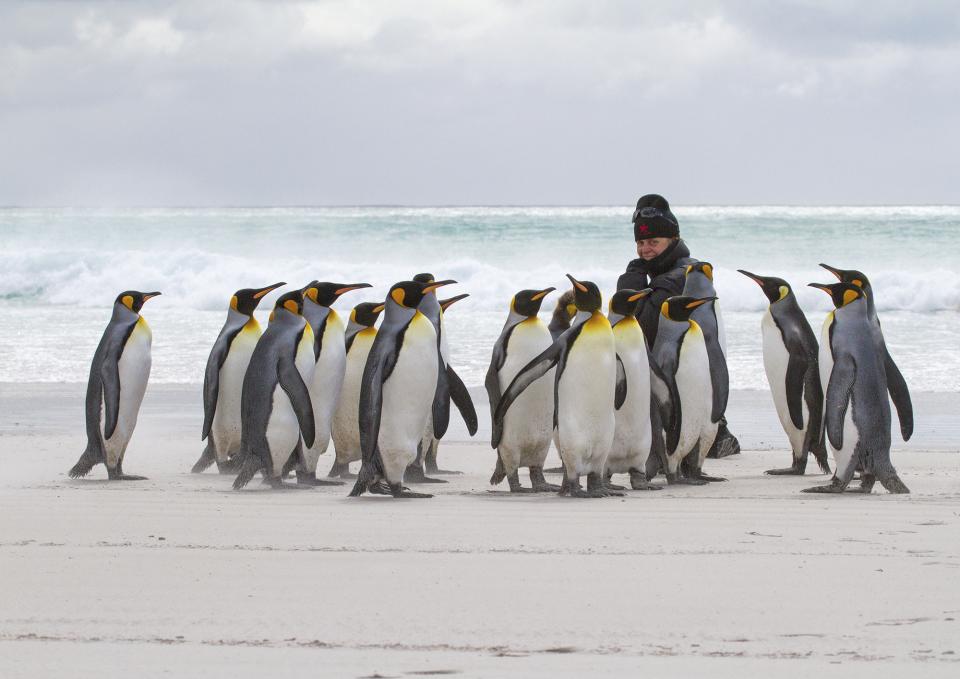 The Falkland Islands home to five species of penguins, are one of the last untouched wildlife wonders of the world. Unspoiled beaches, islands and cliffs provide a natural safe-haven for hundreds of species that have made the Falklands their home. Watch albatross soar gracefully through the air against a backdrop of beautiful blue sea and sky. Elephant Seals and Southern Sea Lions breed here, and Killer Whales patrol the waters in pursuit of a meal. Sit patiently alongside King Penguins and wait for the fluffy chicks to come and take a look at you! The possibilities for enjoying this extraordinary wildlife experience are endless, as are the photographic opportunities.
This is an Ecotour that will make a difference to you, and to the areas we visit.
We will donate to the important work of Falklands Conservation.
We will employ local people.
We will use locally owned and operated lodges and outfitters.
We will use local goods and services.
Upcoming Dates
Saturday, December 1, 2018 to Wednesday, December 12, 2018
Availability — Only FIVE spaces left on this departure
---
Cost per person is $8,799
Single supplement is $1,250
---
Day 1: Arrival to the Falklands, and on to Sea Lion Island
Plan your arrival to Punta Arenas, so that you can join us on the Lan Chile flight # 991 at 12:15pm from Punta Arenas, Chile - this flight is included in your tour cost.We are met on arrival at the Mount Pleasant Airport and immediately transfer to the Falkland Islands Government Air Services (FIGAS) flight to Sea Lion Island. We will settle in on arrival and have time late in the afternoon to wander to the penguin colonies, of which some are so close that they are visible from the dining room! Sea Lion Island is home to Magellanic, Gentoo and Rockhopper penguins. It is a famed breeding site for Southern elephant seals, and has a breeding colony of Southern sea lions as well. Killer whale pods are regularly seen patrolling the shoreline! It is an amazing location, and is all accessible on foot!
Sea Lion Island Lodge (L,D)
Day 2: Sea Lion Island
Today we enjoy an introductory tour of the whole island, and afterwards can stroll back to the lodge from the far end of the island where the King cormorant and Rockhopper penguin colonies are located. After lunch explore the beaches close to the lodge where Southern sea lions are breeding, and the bull Elephant seals are hanging out molting having now all finished breeding. At high tide be sure to go to the tidal pool at one end of the beach as this is a known haunt of Killer whales trying to grab young seals and sea lion pups!
Sea Lion Island Lodge (B,L,D)
Day 3: Sea Lion Island
Another full day on Sea Lion Island, this would be a good day to try and get pictures of the Killer whales that patrol the shoreline! Or you can try and get pictures of the penguins as they surf ashore! Sea Lion Island is also a great spot to get photographs of the two endemic birds of the Falkland Islands, the Cobb's wren and the flightless Falkland Islands steamer duck.
Sea Lion Island Lodge (B,L,D)
Day 4: Sea Lion Island to Bleaker Island
Today we can spend a last morning watching the Gentoo and Magellanic penguins surf ashore, or perhaps monitor the Killer whales and see if you can witness the Killer whales snatch a young Elephant seal. After breakfast, it is time to pack and then take a FIGAS flight the short distance from Sea Lion Island to Bleaker Island just a few miles away. For the rest of the day we will explore Bleaker Island. You can visit the Magellanic penguins, which have several nesting areas, or the Rockhopper penguins, or perhaps the Rock cormorant colony, but the most dramatic is the noisy and easily accessible King cormorant colony which numbers over 20,000 birds, with the young birds forming large creches. All these colonies are just a short and pleasant walk from the beautiful and luxurious lodge.
Bleaker Island Lodge (B,L,D)
Day 5: Bleaker Island
Today we will spend a full day exploring Bleaker Island which has nesting populations of Gentoo, Magellanic and Rockhopper penguins, plus numerous waterfowl such as Silvery grebe, Chiloe wigeon, Speckled and Silver teal, and Ruddy-headed geese that nest on and around Big Pond. There are also numerous smaller birds such as Tussacbirds and Magellanic snipe!. Maybe today the challenge is catching the Rockhopper penguins jumping their way up the cliffs! In the afternoon we may visit the shearing shed and learn about sheep husbandry on this still active sheep farm.
Bleaker Island Lodge (B,L,D)
Day 6: Bleaker Island to Carcass Island
Today we say a sad farewell to our luxurious lodgings on Bleaker Island, and fly across East and West Falklands to the western side of the archipelago and the delightful Carcass Island. We can settle in on arrival and have time late in the afternoon to wander to the penguin colonies visible from the main house! Carcass island is home to Magellanic and Gentoo penguins, numerous songbirds (Carcass is rat, mouse and cat free) and there are also Southern elephant seals, and perhaps Southern sea lions.
Carcass Island Manager's House (B,L,D)
Day 7: Carcass Island to Steeple Jason
Today we embark on a unique adventure; we have obtained permission to spend the next two nights on the rugged and inaccessible island of Steeple Jason, home to the largest Black-browed albatross colony in the world. There is only one house on Steeple Jason, normally home to researchers from the Wildlife Conservation Society, and now our base for two nights. We take a boat from Carcass Island to Steeple Jason in the far west of the Falkland Islands; the boat ride and landing on Steeple Jason are weather dependent, but assuming conditions allow we take the four hour boat ride, watching out for Commerson's and Peale's dolphin that both inhabit these waters. Steeple Jason in January has over 200,000 pairs of nesting Black-browed albatross, and all the nests should have chicks at this time of year! This promises to be a unique opportunity indeed.
Steeple Jason (B,L,D)
Day 8: Steeple Jason
Today we have a whole day to explore Steeple Jason and wander among the albatross colonies. The main colony is approximately 200 yards wide and stretches for a staggering 3 miles! As one of the few islands that are free of rats and cats, there are numerous other nesting birds including Striated caracara, Southern giant petrel, Gentoo penguins, Rockhopper penguins, and Wilson's storm petrels. Our senses will be bombarded with the bounty of wildlife on this incredible island.
Steeple Jason (B,L,D)
Day 9: Steeple Jason to Carcass Island
Today we sail back to Carcass Island, which is still an active sheep farm in addition to being home to an amazing array of bird life. We will have the afternoon to explore the island on foot - Carcass Island is home to breeding colonies of Gentoo and Magellanic penguins, and home to both of the Falkland Islands endemic species, the Cobb's wren, which is particularly tame and approachable, and the Falkland Islands flightless steamer duck. In addition we will see breeding South American terns, Blackish and Magellanic oystercatchers, Kelp geese, Upland geese, Striated caracaras, Magellanic snipe, Black-throated finch, Grass wren and Falkland thrush.
Carcass Island Manager's House (B,L,D)
Day 10: Carcass Island to Stanley
Today we say farewell to Carcass Island and fly across West and East Falklands to the "metropolis" of Port Stanley (population just over 2,100). Amazingly the entire human population of the Falkland Islands numbers just over 2,700! We have the afternoon to tour Port Stanley, visit some shops, maybe visit one of the memorials to the Falkland Island conflict that figures so prominently in the history of this small archipelago. We plan to have dinner at one of the local fish restaurants and a beer or two tonight at one of the local pubs.
Malvina House Hotel (B,L,D)
Day 11: Volunteer Point
Today we visit Volunteer Point, an impressive peninsula to the northeast of Berkeley Sound that is home to a King penguin colony of over 1,000 pairs, as well as Gentoo and Magellanic penguins. The drive to Volunteer Point is an overland journey that requires an impressive 4X4 vehicle and a local knowledge of the peat bog terrain.We will bring a boxed lunch and plan to spend most of the day at Volunteer Point before returning to Port Stanley in the late afternoon. We plan to enjoy our farewell dinner at our hotel tonight after a very full day.
Malvina House Hotel (B,L,D)
Day 12: Stanley to home
This is our departure day - enjoy a relaxed morning before we return to Mount Pleasant Airport for our Lan Chile flight to Punta Arenas. This Lan Chile flight continues on to Santiago, arriving to Santiago at 9:20pm. Please coordinate with us and Lan Chile if you wish to take this flight on to Santiago.
Travel Information
Thanks for choosing Falkland Islands with Terra Incognita Ecotours, Inc. It is our pleasure to help you plan for your upcoming ecotour. To ensure that your travel arrangements are made to your satisfaction, please take a few minutes to read through this information.
What you need to have with you on your trip:
Passport: If you are a U.S., U.K., Australian or Canadian citizen, you will need a passport, valid for six months from the date of completion of your trip.
It is always a good idea to make a photocopy of your airline tickets and of the pages of your passport that have the number, your photograph and other pertinent information. Keep the copies separate from the originals.
Visas: Please consult the United Kingdom consulate or embassy nearest you for visa requirements to enter Falkland Islands. If a visa is required, you are responsible for obtaining it.
Documents for children under the age of 18, not traveling with both parents: The U.S. government is increasingly requiring that minors under 18 years of age traveling alone, with grandparents, or with one parent/legal guardian only, carry a notarized document signed by both parents or by the parent/legal guardian not traveling with the child. We suggest you obtain such a document (noting the age of the child, relationship to traveling adult(s), dates of travel, and destination) to avoid potential problems. For example, in the case of divorce, the parent with legal custody must sign the permit, and the accompanying adult must carry proof of this fact. In addition, if the child's surname differs from that of either parent, you may want to carry the child's birth certificate.
Emergency Contact number while on your ecotour:
Call COLLECT (813) 476-2810
Security: There are currently no security problems in Falkland Islands. Please feel free to check with the US State Department for any updates or change in conditions.
Practical Information
Currency: Rates effective January 2016. The currency of Falkland Islands is the Great Britain Pound (GBP) and 1 USD = 0.67 GBP. Importantly there are no ATM machines in the Falkland Islands, and any US dollars must be in mint condition - crisp, clean, no rips, no writing, no imperfections whatsoever - if you wish to exchange them for Great Britain Pounds.
Major credit cards are widely accepted throughout Falkland Islands, we suggest you change some currency into small denomination Great Britain pounds for smaller purchases such as refreshments or other miscellaneous expenses.
Health: All information we obtain regarding health precautions is received from the Centers for Disease Control in Atlanta at 404.332.4559 or www.cdc.gov.
Please note that Terra Incognita Ecotours, Inc., as a travel company, is in no way authorized to prescribe any inoculations or medications. We recommend that you consult your personal physician or a travel clinic specialist for medical advice, showing him or her the brochure that indicates the places you will be visiting. Your physician is most familiar with your personal medical history and is best qualified to determine your particular needs. It is always advisable to have physical and dental check-ups before you leave.
There are no specific health advisories in effect for the Falkland Islands.
Swimming: There are not really any opportunities to swim during the ecotour, though the Malvina House Hotel in Stanley has a sauna and jacuzzi.
Time Difference: Falkland Islands is one hour ahead of Eastern Standard Time.
Weather: Falkland Islands has a largely cool/chilly temperate climate. Because Falkland Islands lies in the Southern Hemisphere, the warmest months are December, January and February (summer), and the coldest June, July and August (winter). Importantly, rain and strong wind is possible at any time, even though we travel in the Falkland Islands summer season and no matter the island, the mornings and evenings are cooler and nights can be cold.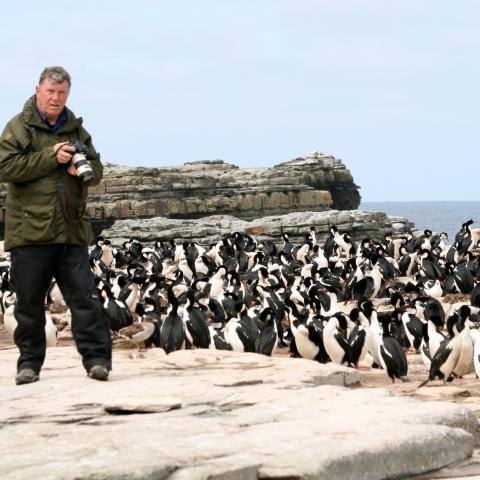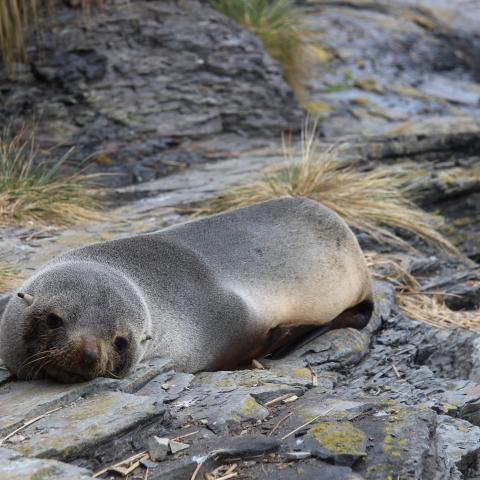 Lodging Info
Sea Lion Island Lodge
Sea Lion Lodge is a 3 star hotel and the most southerly British Hotel in the world. The accommodation is welcoming, homey and very comfortable. The Lodge, purpose built in 1986, and the locally based staff ensure that their guests are superbly looked after throughout their stay. The lodge and settlement were completely upgraded in 2008.  Guests can expect all the home comforts including central heating and en-suites in every room. Sea Lion Lodge is comprised of 10 rooms and is the only hotel or lodge on the island, so privacy is guaranteed!  The Lodge offers spectacular views of the South Atlantic – there is nothing but water between Sea Lion Island and Antarctica.
Carcass Island Guest House
The guest house offers a comfortable, friendly atmosphere and a home away from home experience. Our hosts, Rob and Lorraine McGill, are welcoming and attentive. The accommodations have been beautifully renovated, and all the bedrooms are now en-suite with very efficient radiators. Free laundry is on offer. The chef has always been marvelous and the scenery is incredible.  Magellanic and Gentoo penguins breed here, and numerous other birds can be seen, as the island is rat and cat free. Marine mammals are also plentiful with elephant seals on the north-west point. Carcass Island is small enough to be explored on foot with sandy beaches and rugged cliff-tops; alternatively drop-offs/pick-ups can be arranged or use of the Land Rover – all free-of-charge.
Malvina House Hotel
Malvina House Hotel is situated in the heart of Stanley, capital of The Falkland Islands.  With beautiful views overlooking the natural harbour and only a few minutes' walk from shops, pubs and historic sites and monuments. The hotel combines the convenience and comforts that you would expect in any capital city whilst encompassing a small town atmosphere.   With 35 modern comfortable en-suite bedrooms, a spacious lounge bar, and a newly extended and refurbished restaurant with an award winning chef utilizing local Falklands produce incorporating international experience and flair. There is also a spa room with jacuzzi and sauna to help you relax and unwind.