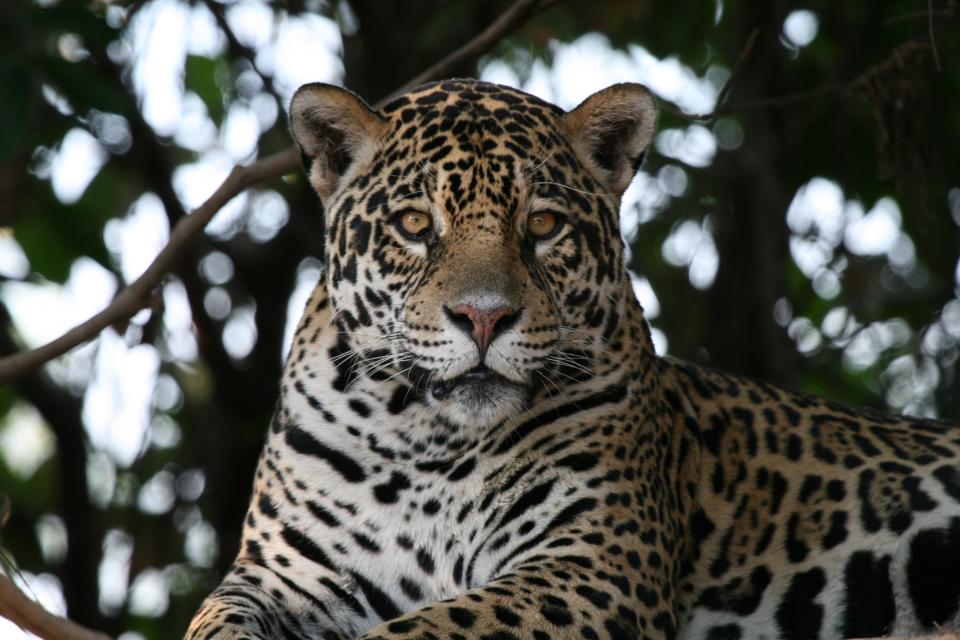 The Pantanal is the largest inundated plain in the world and is a refuge for endangered species like the jaguar, hyacinth macaw, the giant anteater and the giant otter. The dry and wet seasons are a remarkable characteristic of this ecosystem and dictate the rhythm of the incredible wild life sheltered in its ecosystem. There are an estimated 3,500 species of plants, 124 species of mammals, 177 species of reptiles, 41 species of amphibians and at least 423 species of birds.
On this safari we can be fairly certain you will see WILD jaguar. At Fazenda Baia das Pedras and Hotel Porto Jofre located in the Brazilian section of the Pantanal, you will also have the opportunity to spot numerous species like the marsh deer, pampas deer, capybara, caimans, howler monkeys, tapir, peccaries, toucans, jabiru stork and of course both red and yellow macaws, and the stunning hyacinth macaw.
In keeping with the principles of responsible ecotourism:
We will make a donation to the conservation work of Jaguar protection in the Pantanal.
We will employ local people.
We will use locally owned and operated lodges and outfitters.
We will use local goods and services.
This is an ecotour that will make a difference to you and to the places we visit.
Upcoming Dates
Saturday, September 15, 2018 to Sunday, September 23, 2018
Availability — OPEN to enrollment
Saturday, July 13, 2019 to Sunday, July 21, 2019
Availability — OPEN to enrollment
Saturday, September 21, 2019 to Sunday, September 29, 2019
Availability — OPEN to enrollment
---
Cost per person is $7,999
Single supplement is $1,000
---
Day 1: Arrival Campo Grande, Brazil
We are met on arrival at the airport and transferred to our hotel for the night.  Enjoy a Welcome Dinner at the nearby and delicious Vermelho Grill that specialises in Brazilian BBQ.
Overnight at Grand Park MS Hotel (D)
Day 2: Campo Grande to Pantanal
Today we will drive from Campo Grande to our base for the next three nights, the very comfortable Pousada Baia das Pedras. We will depart in a mini-bus for the first segment of the journey, and when we reach the dirt roads at the edge of the Pantanal we transfer into 4-W-D vehicles for the remainder of the ride. We will enjoy lunch en route and arrive at the working ranch in the afternoon.
Overnight at Fazenda Baia das Pedras (B,L,D)
Day 3: Baia das Pedras
Today we have a full day to explore the ranch, with game drives, horseback riding, boat rides all possible means of exploration. This evening we will hear about the conservation programs talking place in the Pantanal and the efforts to protect jaguars, tapirs and so much more. 
Overnight at Fazenda Baia das Pedras (B,L,D)
Day 4: Baia das Pedras
A second full day to explore the ranch — we will learn about all the conservation efforts being undertaken on this working ranch. We will see first-hand how agriculture and conservation can work hand-in-hand.
Overnight at Fazenda Baia das Pedras (B,L,D)
Day 5: Baia das Pedras to Meeting of the Waters State Park
Today we will board a charter flight from the ranch airstrip and head north as we really get a sense of the scale and size of the Pantanal and the threats to the unique ecosystem. We will depart from Baia des Pedras in the morning and plan to arrive at our hotel on the banks of the Rio Cuiaba before lunch. After check-in and lunch we will board river boats and begin exploring the riverbanks of the Rio Cuiaba and adjoining channels inside the forest of the 270,000 acre "Meeting of the Waters" State Park. 
Overnight at Porto Jofre Hotel (B,L,D)
Day 6: Meeting of the Waters State Park
A full day to explore the area by river boat. We will in fact spend the next two days exploring this area by boat, searching for jaguars, caiman, capybara and giant otter that are all present in the area and regularly seen.
Overnight at Porto Jofre Hotel (B,L,D)
Day 7: Meeting of the Waters State Park
Another full day of exploration.
Overnight at Porto Jofre Hotel (B,L,D)
Day 8: Porto Jofre to Cuiaba
We begin our journey up the Transpantaneiro after breakfast, using open game-viewing vehicles for the first half of the drive. We will have lunch at a local fazenda and complete the journey in a mini-bus from Pocone (where the black-top road begins). Our destination is the very comfortable and modern Hotel Deville in Cuiaba, where we can find wi-fi internet, 24 hour electricity, hot and cold running water, and other amenities. Our farewell dinner is at a local restaurant tonight. 
Overnight at Hotel Deville (B,L,D)
Day 9: Cuiaba and flights home
Enjoy a leisurely breakfast and you can schedule your return flight for any time today.
(B)
Travel Information
Thanks for choosing Brazil with Terra Incognita Ecotours, Inc. It is our pleasure to help you plan for your upcoming ecotour. To ensure that your travel arrangements are made to your satisfaction, please take a few minutes to read through this information.
What you need to have with you on your trip:
Passport: If you are a U.S. or Canadian citizen, you will need a passport, valid for six months from the date of completion of your trip and you will need to obtain a Brazilian tourist visa. If you are a UK citizen, no visa is necessary.
It is always a good idea to make a photocopy of your airline tickets and of the pages of your passport that have the number, your photograph and other pertinent information. Keep the copies separate from the originals.
Visas: If you are a U.S. or Canadian citizen, please consult the Brazilian consulate or embassy nearest you for visa requirements to enter Brazil. If a visa is required, you are responsible for obtaining it.
Documents for children under the age of 18, not traveling with both parents: The U.S. government is increasingly requiring that minors under 18 years of age traveling alone, with grandparents, or with one parent/legal guardian only, carry a notarized document signed by both parents or by the parent/legal guardian not traveling with the child. We suggest you obtain such a document (noting the age of the child, relationship to traveling adult(s), dates of travel, and destination) to avoid potential problems. For example, in the case of divorce, the parent with legal custody must sign the permit, and the accompanying adult must carry proof of this fact. In addition, if the child's surname differs from that of either parent, you may want to carry the child's birth certificate.
Emergency Contact number while on your ecotour:
Call COLLECT (813) 476-2810
Practical Information
Currency: The currency of Brazil is the Brazilian Reai. The exchange rate is at 1 USD = 3.95 Reais. Major credit cards are generally accepted at hotels, restaurants and larger stores. U.S. dollars are not widely accepted in Brazil, so we suggest you change some currency on arrival and carry Brazilian Reais in small denominations for smaller purchases such as refreshments or other miscellaneous expenses.
Health: All information we obtain regarding health precautions is received from the Centers for Disease Control in Atlanta at 404.332.4559 or www.cdc.gov.
Please note that Terra Incognita Ecotours, Inc., as a travel company, is in no way authorized to prescribe any inoculations or medications. We recommend that you consult your personal physician for medical advice, showing him or her the brochure that indicates the places you will be visiting. Your physician is most familiar with your personal medical history and is best qualified to determine your particular needs. It is always advisable to have physical and dental check-ups before you leave.
At the present time, no immunizations are required for this ecotour, although the CDC recommends that the normal "childhood" vaccines should be up to date: Measles, Mumps, Rubella (MMR Vaccine), Diphtheria, Tetanus, Perturssia (DTP Vaccine) and Polio vaccine.
Swimming: There are only one or two opportunities to swim during the ecotour and children less than 14 years of age must be accompanied by an adult while swimming.
Time Difference: Campo Grande is on Eastern Standard Time.
Weather: Brazil is located in the Tropics so of course the weather on this ecotour can be expected to be warm and humid, with temperatures slightly cooler at night, indeed the average temperature for most of the country lies between 75 - 85 degrees Fahrenheit. Please remember that the sun's rays are more vertical than you may be used to, so you can sunburn more easily. Be careful of the midday sun.
There are two distinct seasons in the Patanal of Brazil; the rainy (October to May), and the dry (June thru September). Typically in the rainy season it rains in the afternoons and the mornings are bright and sunny. Although one can almost depend on clear, sunny weather, there are occasional unseasonable storms, and brief but intense rain showers occur regularly in the tropical rainforest regions during any season.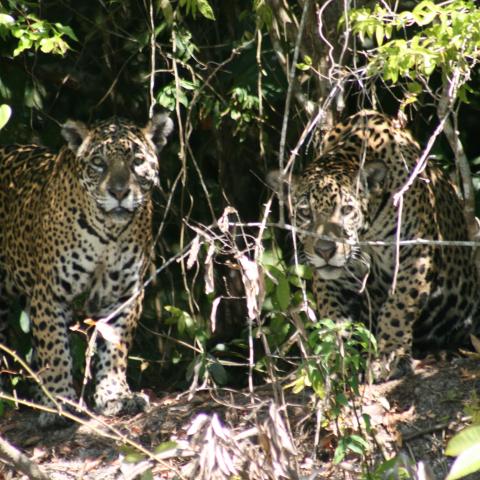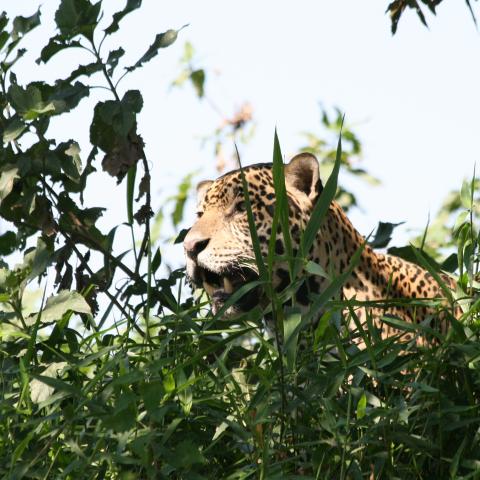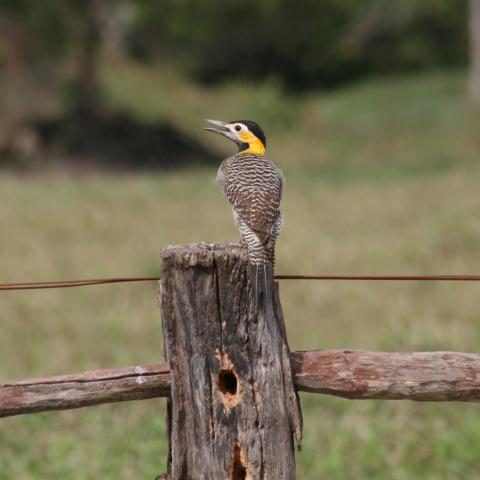 Lodging Info
Grand Park MS Hotel, Campo Grande
This sleek modern hotel is centrally located next to the major shopping district. All rooms have LCD cable TV, hair dryer, personal safe, air conditioning, tiled floors, fridge and telephone. The suites also feature a super king bed, spa bath and balcony. There is free WiFi and a gym, sauna and a swimming pool. Grand Park Hotel boasts to have the most complete breakfast in town - as well as laundry, snack bar, restaurant and beauty salon services.
Pousada Baia das Pedras, Pantanal
The farm Baía das Pedras is located in the Pantanal of Nhecolâândia, Aquidauana District, in the heart of the Pantanal. It is 300 km from Campo Grande, the capital of South Mato Grosso.
Placed on the shores of Drain of Castelo, the Fazenda was founded in 1940 by José Coelho Lima and his wife Cyra Gomes Coelho Lima. The couple inherited a small piece of land where they lived and worked with cattle. As the years passed by they bought new areas and formed Baía das Pedras, on 15 thousand hectares. The two fresh water lakes with gravel rocks and sand in the bottle, located at the Fazenda, inspired the name "Bay of Rocks" or just Baía das Pedras.
Good hospitality is a tradition at the Fazenda; in July 2003 the main house was completely refurbished to receive guests. The host's Doio and Rita Coelho Lima, are now responsible for the farm, where besides the Hotel activities they also raise cattle and Pantaneiro horses.
Porto Jofre Hotel, Pantanal
Located directly on the banks of the Rio Cuiaba, this hotel primarily caters to Brazilian sport-fishermen who visit this area for the remarkable fishing opportunities. The hotel also has an airstrip, so is very convenient for our private charter flight from Baia das Pedras. The rooms are simple, but comfortable, with en suite bathrooms, hot and cold water, showers, electricity, etc. Meals are served in a central dining and bar room, where internet access is also available. The hotel grounds include nesting sites for Hyacinth macaws and numerous other bird species! Importantly the hotel is just a 30 minute boat ride from the prime Jaguar territory inside the Meeting of the Waters state park.
Hotel Deville, Cuiaba
Located downtown, 15 minutes from the airport, this modern hotel has immediate access to all commercial, tourist and cultural attractions. WiFi is available in all 173 rooms, and there is a swimming pool and gym on grounds, plus a well-equipped business center. The hotel also houses the Naga spa, where you can find the following therapies - Zen Harmony; Shiatsu; anti-stress massage; occidental reflexology; hot stones; lymphatic drainage; facial massage; facial massage with stones.