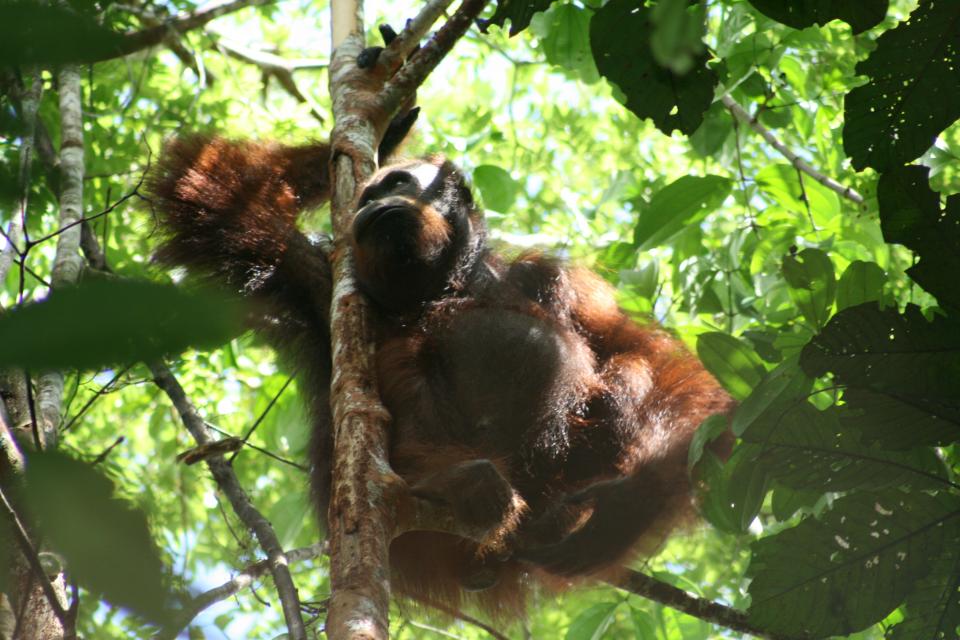 Well known as the Land Below the Wind and also Land of the Sacred Mountain, Sabah on the island of Borneo, is a land of varied landscapes and natural wonders. Borneo is also the home of many National Parks and an abundance of tropical wildlife and nature. Our tour takes us on a journey covering local cultures, a World Heritage Site, and a trip upon the Kinabatangan River; one of Borneo's longest and most majestic rivers. The river and its surrounding rainforest wetlands make up one of the richest ecosystems on the planet. We end with a few days on Lankayan Island, where Sea Turtles share the beach with us and the waters are teeming with tropical life. Our trip will offer us an opportunity to visit the Sepilok Orangutan Centre where these primates are rehabilitated for future release programs, and from there on to the village of Sukau, home of the Kinabatangan Orangutan and Elephant Conservation Programs. While in Sukau, we will travel with local staff to look for Elephants and view Orang-utans, Proboscis Monkeys, Hornbills and many other wildlife species using the river as our highway. Group size is always restricted to 16 individuals.
This is an Ecotour that will make a difference to you, and to the areas we visit.
We will make a contribution to the EcoHealth Alliance Borneo Project.
We will employ local people.
We will use locally owned and operated lodges and outfitters.
We will use local goods and services.
Upcoming Dates
Sunday, September 2, 2018 to Tuesday, September 11, 2018
Availability — Open to enrollment
---
Cost per person is $6,799
Single supplement is $1,000
---
Day 1: Arrival Kota Kinabalu
Plan to arrive into Kota Kinabalu today. Upon arrival into Kota Kinabalu you are met by your guide and transferred to your luxury lodgings at the Shangri-La's Rasa Ria Resort located directly on the South China Sea for an overnight stay. Guest rooms are decorated in traditional Borneo textures and colors and offer balconies with views of the sea and outlying islands. Hotel amenities include restaurants and bars, health club, spa, and a swimming pool. The afternoon is at leisure to recover from jet lag, join us for our Welcome Dinner this evening.
Overnight at Shangri-La's Rasa Ria Resort Hotel (D)
Day 2: Kota Kinabalu to Sandakan
After breakfast we will spend 2 hours walking in the lush 66-acre nature reserve on its various jungle trails with impressive views of Mount Kinabalu on one side and the Sabah coastline on the other. The reserve is used by Sabah Wildlife Department as part of their orangutan rehabilitation program and here we will see the first orangutans of the trip! Late morning we depart for Sandakan located on the east coast of Sabah, the flight is just one hour and from the air we can see the scale of the oil palm plantations that dominate the landscape here. We will be staying in the modern Four Points by Sheraton Hotel in downtown Sandakan. After check-in we drive a short distance up the hill behind town to visit the former home of US author Agnes Newton Keith, now a museum, it depicts details of her life in Borneo before and during WWII. Adjacent to the grounds of the museum we also enjoy sunset cocktails followed by dinner at the English Tea House overlooking Sandakan harbor.
Overnight at Four Points by Sheraton (B,L,D)
Day 3: Sepilok Orang-utan Rehabilitation Centre
After breakfast, we proceed for Sepilok Orang-utan Rehabilitation Centre. The centre is an initiative of the Sabah Wildlife Department to rehabilitate and train young Orang-utans to survive again in the wild. Visitors view these red apes during their feeding time from an observation platform followed by audio visual presentation of the rehabilitation initiatives. Observe the difference of rehabilitated Orang-utans and wild ones in the lower Kinabatangan forest we will see later in the trip. We plan to attend the morning feeding here at the Centre. 
Immediately after lunch we will depart for the Gomantong Cave, which is famous for it's large colonies of insectivorous bats and swiftlets. For centuries, the caves have been renowned for their valuable edible swiftlet nests which are harvested for bird's nest soup. The bird's nest collection is an ancient tradition and the trading of these nests has been done since at least 500AD. Twice a year, from February to April and August to September, locals with licenses climb to the roof of the caves, using only rattan ladders, ropes and bamboo poles, and collect the nests. The first collection takes place early in the breeding season before the swiftlets lay their eggs. The birds then make another nest in which they lay their eggs. If we are lucky our visit should coincide with the daily exodus of bats from within the cave out to feed over the forest and river system - a truly incredible spectacle. At dusk we continue to the Kinabatangan River, a further 30 minute drive, and then transfer by boat to our lodge on the banks of the Kinabatangan River.
Overnight at Sukau Rainforest Lodge (B,L,D)
Day 4: Sukau, Kinabatangan River
Sukau is a village situated along the lower reaches of Sabah's longest river, the Kinabatangan River. The lower Kinabatangan is the last remaining large tract of wetlands in Malaysia which has enormous wildlife diversity including a number of species endemic to the island of Borneo such as the Orang-utan, Proboscis monkey and Bornean "Pygmy" elephant. During our stay in Sukau, we will be visiting the recently protected 26,000 hectare Lower Kinabatangan Conservation Area, a region where the EcoHealth Alliance is working closely with local conservation organizations to protect Orang-utans and elephants. Our program in Sukau will involve learning about the conservation initiatives in the area and becoming part of the conservation effort. We plan to go on boat cruises up and down the Kinabatangan River looking for wildlife including Orang-utans, Proboscis Monkeys and much more. In the evening we will present a slideshow on the Orang-utan research, conservation, community involvement and overview of Kinabatangan ecology. 
Overnight at Sukau Rainforest Lodge (B,L,D)
Day 5: Kinabatangan River and visit to Orang-utan study site
Today we depart early on a boat to an Orang-utan study site. Orang-utans are endemic to Borneo and Sumatra, and this is one of the few remaining study sites of wild Orang-utans. The site is situated in the Lower Kinabatangan Wildlife Sanctuary. Meet with Research Officers in the field, join their research activities to understand and observe the behavior of these wild red apes. You will also learn more conservation initiatives underway to protect and conserve the species and their habitat. We will return to lodge for lunch. We have an afternoon game viewing cruise and after dinner, we go on a night cruise to look for nocturnal animals, along the banks of the Kinabatangan River. 
Overnight at Sukau Rainforest Lodge (B,L,D)
Day 6: Kinabatangan River
We will cruise in the morning to an oxbow lake - this lake was created over time and separated from the main river as erosion and deposits of soil changed the river's course. This lake is one of the best places to go bird watching and sometimes, wild Orang-utans are spotted in this quiet and serene lake. The lake is also important as a breeding ground for fresh water fish.
In the late afternoon, we will go on a river cruise until sunset. This is the time when wildlife is at its most active behavior. Aboard your river boat, you will cruise with your nature guide to search for the proboscis monkeys, snakes, birds and many others. On a fine weather, the day is usually complimented with a beautiful sunset. Tonight there will be a BBQ dinner (if weather permits) and cultural performance.
Overnight at Sukau Rainforest Lodge (B,L,D)
Day 7: Kinabatangan River to Lankayan Island
After breakfast we leave for Sandakan to catch a boat to Lankayan Island. Lankayan Island is a much acclaimed tropical island offering everything from great beaches to fantastic snorkel and dive sites - indeed the island boasts more than 30 dive sites including two wrecks! Lankayan Island has been declared part of an immense Marine Protected Area, and is situated within the "Sea Turtle Corridor" - indeed Lankayan is a nesting and foraging ground for several species of Sea Turtles including most commonly the Green Sea Turtle and the Hawksbill Sea Turtle. We spend a couple of days here to explore the island, swim, dive or snorkel.
Overnight at Lankayan Island Resort (B,L,D)
Day 8: Lankayan Island
We have a whole day to explore the island, look for Sea Turtles, swim, dive snorkel or just relax! 
Overnight at Lankayan Island (B,L,D)
Day 9: Lankayan Island to Kota Kinabalu
This morning we must leave our tropical paradise, and take a boat back to Sandakan. We have time for a short city tour of Sandakan before our flight back to Kota Kinabalu. At Kota Kinabalu we transfer to the Shangri-La's Tanjung Aru Resort teh site rproerty tp where we began our trip and which sits on 25 acres of lushly landscaped gardens, 10 minutes away from the airport and city centre. We enjoy our Farewell Dinner this evening in the hotel. 
Overnight at Shangri-La's Tanjung Aru Resort (B,L,D)
Day 10: Kota Kinabalu to Home
This morning we must leave our tropical paradise, and we can plan for a flight anytime today. If you need a day room because of an afternoon or evening flight, we are happy to help make such arrangemnets (extra cost). We board our flights back home and cross the International Dateline en route home.
(B)
Travel Information
Thanks for choosing Borneo with Terra Incognita Ecotours, Inc. It is our pleasure to help you plan for your upcoming ecotour. To ensure that your travel arrangements are made to your satisfaction, please take a few minutes to read through this information.
What you need to have with you on your trip:
Passport: If you are a U.S. or Canadian citizen, you will need a passport, valid for six months from the date of completion of your trip.
It is always a good idea to make a photocopy of your airline tickets and of the pages of your passport that have the number, your photograph and other pertinent information. Keep the copies separate from the originals.
Visas: Please consult the Malaysia consulate or embassy nearest you for visa requirements to enter Malaysia (our itinerary occurs in Sabah, a Malaysian state occupying the northern part of Borneo). If a visa is required, you are responsible for obtaining it.
Documents for children under the age of 18, not traveling with both parents: The U.S. government is increasingly requiring that minors under 18 years of age traveling alone, with grandparents, or with one parent/legal guardian only, carry a notarized document signed by both parents or by the parent/legal guardian not traveling with the child. We suggest you obtain such a document (noting the age of the child, relationship to traveling adult(s), dates of travel, and destination) to avoid potential problems. For example, in the case of divorce, the parent with legal custody must sign the permit, and the accompanying adult must carry proof of this fact. In addition, if the child's surname differs from that of either parent, you may want to carry the child's birth certificate.
Emergency Contact number while on your ecotour:
Call COLLECT (813) 476-2810
Practical Information
Borneo (administratively divided between Indonesia, Malaysia and Brunei) is the third largest island in the World. It has an area of 743,330 km² (287,000 square miles), and is located at the center of the Malay archipelago and Indonesia. Borneo is considered to be part of the geographic region of Southeast Asia. Borneo is in fact only a western reference and the term is rarely used locally; the name Borneo itself was only given by the Dutch during their colonial period. In Indonesia, the island is always referred to as Kalimantan while in Malaysia the northern section is referred to as East Malaysia, as opposed to western reference of Malaysian Borneo.
Currency: The currency of Borneo, where we will be visiting is the Malaysia Ringitt (MYR). The exchange rate as of April 2013 was 1 US$ = 3.03 MYR. Major credit cards are generally accepted at hotels and larger stores. U.S. dollars are accepted in Borneo, so we suggest you carry U.S. currency in small denominations for smaller purchases such as taxis, refreshments or miscellaneous expenses.
Health: All information we obtain regarding health precautions is received from the Centers for Disease Control in Atlanta at 404.332.4559 or www.cdc.gov.
Please note that Terra Incognita Ecotours, Inc., as a travel company, is in no way authorized to prescribe any inoculations or medications. We recommend that you consult your personal physician for medical advice, showing him or her the brochure that indicates the places you will be visiting. Your physician is most familiar with your personal medical history and is best qualified to determine your particular needs. It is always advisable to have physical and dental check-ups before you leave.
At the present time, no specific immunizations are required for this ecotour, although the CDC recommends the following:
Hepatitis A or immune globulin (IG). Transmission of hepatitis A virus can occur through direct person-to-person contact; through exposure to contaminated water, ice, or shellfish harvested in contaminated water; or from fruits, vegetables, or other foods that are eaten uncooked and that were contaminated during harvesting or subsequent handling.
Hepatitis B, especially if you might be exposed to blood or body fluids (for example, health-care workers), have sexual contact with the local population, or be exposed through medical treatment. Hepatitis B vaccine is now recommended for all infants and for children ages 11-12 years who did not receive the series as infants.
Malaria: your risk of malaria may be high in Borneo. See your health care provider for a prescription anti malarial drug. For details concerning risk and preventive medications, see Malaria Information for Travelers to South-east Asia.
Meningococcal (meningitis) if you plan to visit countries in this region that experience epidemics of meningococcal disease during December through June.
Rabies, pre-exposure vaccination, if you might have extensive unprotected outdoor exposure in rural areas, such as might occur during camping, hiking, or bicycling, or engaging in certain occupational activities.
Typhoid vaccine. Typhoid fever can be contracted through contaminated drinking water or food, or by eating food or drinking beverages that have been handled by a person who is infected. Large outbreaks are most often related to fecal contamination of water supplies or foods sold by street vendors
As needed, booster doses for tetanus-diphtheria, measles, and a one-time dose of polio vaccine for adults.
Please also note:
A certificate of yellow fever vaccination may be required for entry into certain countries in South-east Asia. For detailed information, see Yellow Fever Vaccine Requirements and Information on Malaria Risk and Prophylaxis, by Country. Also, find the nearest authorized U.S. yellow fever vaccine center.
Swimming: There may be several opportunities to swim during the ecotour. You should bring a couple of swimsuits. Since you will have time to swim, for added protection from the sun you may wish to wear a T-shirt while swimming.
Time Difference: Borneo is eight hours ahead of Greenwich Mean Time.
Weather: Borneo enjoys a sunny tropical climate year-round with temperatures generally between 75 degrees fahrenheit and 85 degrees fahrenheit. However, it is certainly an equatorial country and because of the consistent high humidity it feels hot year-round. The rainy season is November to February, but is somewhat unpredictable as tropical showers rarely last for any length of time.
Please remember that the sun's rays are more vertical than you may be used to, so you can sunburn more easily. Be careful of the midday sun.